Here is ModLoop tool, which enables a Renoise user to modify the selected sample loop properties dynamically.
Tested on Renoise 3.1.1
v0.29 - mostly fixed loose mode getting stuck
Featuring:
- 2 modes of operation, loose and pitch
- midi mapping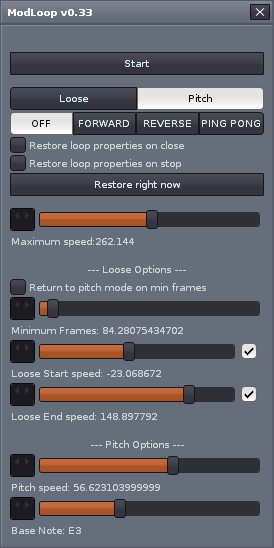 This is my first tool, so I'm open to any sort of feedback! This is also still very much a work in progress. Please report any bugs you find.
To do:
- provide option to restore loop properties when selecting new samples/instruments
- always jump or always move option for restore action
- the beginning of random mode (random position, random... other things later)
- glide option and speed for pitch mode
- finer control over pitch mode (octaves, cents)
- ???

Eventually:
- retrieve the notes being played with the selected sample if possible...
- representation in the GUI of the actual note(s)
- fixing the pitch change with high speeds - I realize now the playback is jumping... the speed needs to be limited
- figuring out how much of the sample buffer we need to check to find a zero crossing
- leverage the unused FHK effects parameters by reading the sequence?
Ultimately, I was hoping to be able to add sample modulation set items so that loop start and loop end could be modulated with all of the existing options... right now being able to midi map the parameters sort of takes care of that, if you only intend to modulate the loop points of your currently selected sample in your composition
Edited by b0nafide, 08 January 2018 - 09:05.