damn it - too expensive - good job bristol has the black swan
Oi Hard Crew!
With Weekender tickets almost gone, BF53 next Friday is your last chance to win a chalet

You'll be entered if you get a ticket through ticketweb or sign up for the draw on the door…
HYPE & TICKETS: www.bangface.com
i would looove to go to this,but unfortunatly its to far away

We're back for 2009

Bang Face Weekender Crew!
Line-up announcements
Increased raver capacity
BANG FACE - The Weekender 2
24-26 April 2009 @ Camber Sands Holiday Park
Hype & Tickets: http://www.bangfaceweekender.com
808 STATE
CONGO NATTY TRINITY (Rebel MC, Top Cat, Tenor Fly)
NOISIA
KEVIN SAUNDERSON
RENEGADE SOUNDWAVE
BONG-RA & DEFORMER
ALTERN-8
ALEC EMPIRE
VENETIAN SNARES
I-F
BEVERLY HILLS 808303
DJ ASSAULT
WISP
LUKE VIBERT
DILLINJA
OTTO VON SCHIRACH
RUSTIE
HELLFISH
SURGEON
LORY D
ZOMBY
CEEPHAX ACID CREW
ALEKSI PERALA
ROB HALL
TODDLA T & MC SEROCEE
RICO TUBBS
DEXTER
SH1TMAT
BIZZY B & MC TDK
CURRENT VALUE
CASPA
ENDUSER
CARDOPUSHER
DJ FUNK
NORMSKI (Back to host BFTV)
SAINT ACID & THE BANG FACE HARD CREW
MORE TBA…
http://www.bangfaceweekender.com
Un-fucking-believable.
How do you even get some of these people to agree to play, decades later?!
Wow, just wow.
Raxyor!!! Ahahaha, awesome!!
I'm trying to get the bangface party to holland this summer…
maybe that's more affordable

Got my ticket booked

Managed to sneak into the first one (shh) too messy a weekend though, couldnt put my body through another one.
Sick line up though.
Happy New Year Weekender Crew!
SUPERSTAR ACID COLLABORATION ALERT *
John Frusciante (Legendary guitarist of the RHCP) & Aaron Funk (Venetian Snares)
join forces for the 1st time to bring us a live 303 & 808 analogue show as SPEED DEALER MOMS

3-D RAVE : BANG YOUR EYES *
Put on your free goggles and Room 2 becomes a shape-throwing-rave-asteroid-field of mayhem!

INFLATALAND *
Room 4 will be an inflatable Battle Zone. Compete with fellow Hard Crew for honour and respect
LATEST LINE-UP ADDITIONS…
SPEED DEALER MOMS - John Frusciante & Aaron Funk
DREXCIYAN CONNECTION - Dopplereffekt & Urban Tribe
SKREAM
DJ KENTARO
JACK BEATS
EBOLA
THE TEKNOIST & SCHEME BOY
X&TRICK RAVE SYSTEM
---
BANG FACE - THE WEEKENDER 2
24 - 26 April 2009 @ Camber Sands Holiday Park
HYPE & TICKETS: http://www.bangfaceweekender.com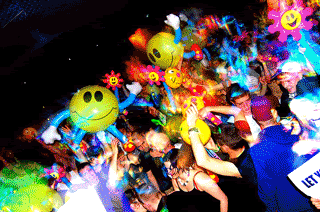 Damn, this is looking killer.
I booked my ticket to bloc yesterday, but I'll really have to see if I can make this as well.
Calling all Bang Face Hard Crew!
Get ready for summer 2009…
BANG FEST - 29/30 August 2009 @ Somerleyton Estate, Suffolk
A day and night raving fun in the great British countryside…
The party will bang over 3 areas and as ever, expect the unexpected from us
plus a few more music styles as we move closer to nature!
Tickets available now: £45 + £3 booking fee
deposit system: pay one third now / the rest by 1st May 09
Info: http://www.bangfaceweekender.com/bangfest2009
BANG FEST - a Neo-Rave Explosion of Acid, Jungle, Rave Hardcore,
Drum & Bass, Breakcore, Dubstep, Electro, Techno, Electronica, Dub & Reggae.
BANG FACE 67 - The return to London after Camber…
Friday 12 June 09 / 9pm-6am @ Electrowerkz, London
GENERAL LEVY / BEARDYMAN / SPL / RESO / SOMATIC RESPONSES
MALADROIT / DJ RAINBOW EJACULATION / ST ACID & BANG FACE HARD CREW
£10 tickets available now from:
http://www.ticketweb.co.uk/user/?region=gb…mp;event=315293
Theme & more hype TBA: http://www.bangface.com
---
BANG FACE 68 - BOAT PARTY! - Friday 10 July 09
Our rave on the Dutch Master down the River Thames


Stay tuned for nautical rave alerts…
---
See you all at Camber Sands!
BANG FACE - THE WEEKENDER 2 - LOST IN FACE
24 - 26 April 2009 @ Camber Sands Holiday Park
Full Hype: http://www.bangfaceweekender.com
venetian snares and john frusciante join forces …