Hi,
I have been a renoise user for almost 3 years now but I have not updated my vst/au libraries in many years. I am mainly a Linux user but I use my 2011 13 inch macbook pro with Lion for music making/creative stuff. I have found many apps and vsts I used to use no longer work because Apple no longer supports rosetta. I mainly write noisy, avant-garde, glitchy stuff. Mainly looking for fairly complex drum synthesizers, granular synthesizers and also synths like crystal synth. For effects I'm looking for beat and sample mutilation like 'crazy ivan'or 'geometer' by smartelectronix. I was doing some searching for plugins and found many links dead or obsolete. My main concern is recently I have run into some vulnerabilities using a mac that I hadnt previously really had to worry about before. Also many vsts are not compatible with Lion.
here is what I am working with currently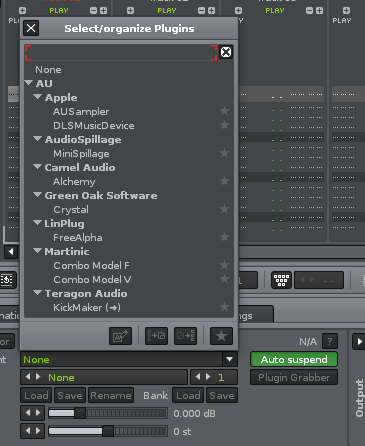 I have referred to:
renoise mac vsts

which links to:
kvraudio mac vsts free

also briefly read through links from this search:
renose forum search vsts
http://forum.renoise.com/index.php?app=core&module=search&do=search&fromMainBar=1
I use these all the time, I install these whenever I setup a new computer first thing:
mda smartelectronics
http://mda.smartelectronix.com/
bram smartelectronix
http://bram.smartelectronix.com/
I found this site recently:
shuriken vst and aus
http://www.shuriken.se/
I have not tried these yet but I've read the descriptions and watched the videos and these look like something I might use. Have no idea if they still work or are safe though.
I ran into this site looking for a drum synth:
gersic.com plugins
http://www.gersic.com/plugins/index.php?daCat=29
But many of these links are really old or dead.
This seems like a good collection of links, but I am really exhausted from following links and finding out if the plugin is interesting and/or safe and/or stable:
macosxaudio vst links
http://www.macosxaudio.com/forums/viewtopic.php?t=35967
obviously I know how to google, and I can figure out if a link is dangerous or obsolete… but I'm thinking other renoise users will probably be using similar vsts/aus.
I'm really in love with Crystal Synth and Alchemy, however Alchemy is not free and as far as I can tell not very tweakable unless you pay for the full version. I really like these two apps because I can work on patches for crystal synth in iOS and I can control Alchemy with my iPad.
Anyway long story short, I'm very out of date. If you use any free VSTs or AUs for mac that are really great and stable/reliable, please share. I would greatly appreciate it.