Idea: Mid / Side device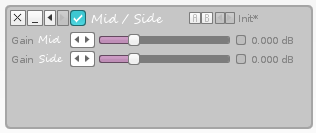 +1
A Mid/Side device would be incredibly useful.
+1
Would be nice to have a checkbox option to correlate the gain reductions or boost. For example, check a box and when you reduce in mid, the same amount gets boosted for the side and vice-versa.
Also ability to mute side or mid would be helpful.
This SigMod vst I posted has exact this Midside plus vst3 wrapper and works quiet fine for now.
But also internal option in Renoise would be mad dope +1
With a parallell container with a clever interface, we can easily make this device on our own.
It's a nicety, but I don't see how the suggested design would add much of value workflow wise. Maybe someone could share some examples of practical usage?
A gainer on the side signal allows adjusting the stereo width, on the mid signal it could fix signals being too spread out where the mid is lacking. A compressor or limiter on the side signal would allow you to limit the stereo spread inbetween a certain width. This would be the simple use cases for me. Probably some more use cases out there.
That's what stereo expander does, when sliding it towards mono?
Yup. This workflow still requires you to split the original track into two sends, one for mid and one for side. It's not a very nice solution in comparison to handling all this (including m/s) in a parallel container.
Btw, it's very easy to make this device in protoplug, so you can check out what it brings to your workfow. I might post something later.
I'm honestly not sure how the technical side of the Stereo Expander works, never checked in detail. I wouldn't bother with protoplug, unless you want it for the learning experience. Voxengo has a free plugin for this.
https://www.voxengo.com/product/msed/
Kind of an idea, have two mono signals ride on the L and R borders of the side signal using 2 signal followers. With relaxed follow settings it sounds interesting at least in my head, in theory…