As most of us know, Renoise does not support automatic PDC (Plugin Delay Compesation) yet.
Due to that circumstance, a lot of plugins introducing their own latency in order to process the audio, are rendered useless as a track effect, because the respective track would go out of sync.
Since v1.91, Renoise is featuring a very helpful gadget: the VST info box (or info tool).
Now every VST fx plugin has a [?]-button in the upper right corner of its dedicated area in the DSP chain:

If you either click or mouse-over that button, you will obtain the following information:


As you can see in the screenshot above, Dblue's Glitch VST is not reporting any latency at all (0 samples) and therefore requires no PDC.
If you are only using plugins that introduce zero latency, you're already on the safe side and this little tip is superflous for your setup.
Now what if a plugin reports some latency, like this one:


As the infobox tells us, this VST is causing a latency of 142 samples which would make your audio of the track you applied the plugin on to be ~3.2 ms behind the rest. This certainly won't be too much of a problem if you're playing some slow-attack strings on that track, but most likely will bug you if there's some percussion going on.
Now we need a 3rd-party tool, that enables us to delay all the other tracks by the same amount of samples.
This is where Voxengo Latency Delay comes into play.
LatencyDelay is a simple and free VST plugin which merely enables you to delay a single track of your song by a freely customizeable amount of samples between 1-10000.
If there is one track causing a delay of 142 samples, all you have to do is to setup VoxengoLatencyDelay to delay all the other tracks by the same amount, which is quite easy:
The plugin itself will natively and intentionally cause a delay of 10000 samples. Via the GUI of the plugin (or the faders in the DSP chain view), you can set a 4 digit value.
That value will tell LatencyDelay how many samples of the aforementioned 10000 NOT to delay.
Examples:
If you set the plugin's value to 9999, you will obtain a delay of 1 sample (10000-9999).
If you set the plugin's value to 8500, you will obtain a delay of 1500 samples (10000-8500).
etc…
So to match a delay of 142 samples, all we have to do is set LatencyDelay to the result of its native delay minus the delay of the latency to be compensated.
=> Ergo: 10000-142 =

Now simply copy the correctly set up instance of the LatencyDelay plugin to every other channel (YELLOW) BUT the master, send (BLUE) and the [i]"to-be-compensated-channel"/i.

You can most comfortably do that via the mixer view by holding the left-CTRL key and dragging+dropping the VoxengoLatencyDelay to all the other tracks one after another.
Done - delay compensated!

Now of course you could argue that setting up a send track with one Voxengo would be more handy, but i think you would then sacrifice a bit of the send-channel routing flexibility which renoise initially offers.
But that's up to you and your individual needs.
Any suggestions or improvements are welcome.
UPDATE
As a substitute for Latencydelay, you can also use Voxengo SampleDelay.
SampleDelay incorporates the advantage that you can set up the respective delay directly in the Plugin, without having to do some calcs, which you would have to do if using LatencyDelay.
So it's more straight-forward and comfortable to use - unfortunately looza had to introduce me to the plugin after i started this thread.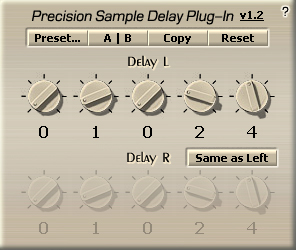 The setting to be seen in the above screenshot would induce a latency of 1024 samples.
And to match the latency of the EQ plugin used my example above, you simply would have to set up a 0 0 1 4 2 , instead of the 0 1 0 2 4.