Here is ModLoop tool, which enables a Renoise user to modify the selected sample loop properties dynamically.
Tested on Renoise 3.1.1
v0.31
Featuring:
2 modes of operation, loose and pitch

midi mapping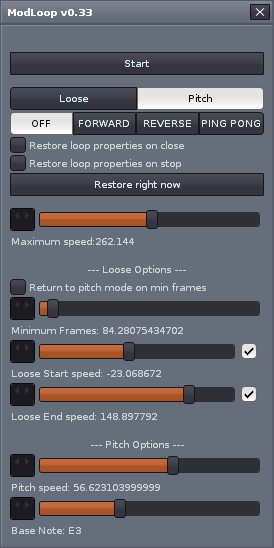 This is my first tool, so I'm open to any sort of feedback! This is also still very much a work in progress. Please report any bugs you find.
To do:
glide option and speed for pitch mode

finer control over pitch mode (octaves, cents)

???
I've concluded that I won't be able to do many of the things I was hoping with this tool, but will likely delve deeper into creating a plugin for this purpose in the future.
Ultimately, I was hoping to be able to add sample modulation set items so that loop start and loop end could be modulated with all of the existing options… right now being able to midi map the parameters sort of takes care of that, if you only intend to modulate the loop points of your currently selected sample in your composition