Woohoo! This is a very good news!
Funny because I was like: ''hey am I even using Renoise's latest version?'' so I went to check and found out this new update came out recently! Thanks Team, I seriously needed VST3 support. Bless y'all!
I have same problem with Waves plugins and can't open Renoise.
"Renoise crashed during the last startup while trying to initialize the Audio plugin: … WaveShell1-VSTR3 9.92 … " … Honestly I hate Waves installation issues so much.
It made Google Chrome crash and after closing the Renoise processes the Windows 10 Task manager is laggy.
I just removed my wave shell vst3 for now and it worked- for whatever reason it wasn't blacklisting it so I had a crash/freeze every time until I did this (wave shell 10)
Thanks for this!! One question? I would love to have a 32 bit version of Redux to use in my daw that only supports 32 bit… is this an option maybe?
I also have waves plugins initializing reaaally slow, but then they're initialized, they work and the next waves plugin you drag on the track is initialized fast, so it's just the first one
Edit: Seems also Izotope plugins have the same issue, other plugins you can just drag and drop on a channel fast, but waves and izotope plugins you have to wait a few seconds holding the mouse pressed hovering over a track and only after a while they are initialized and you can let go of the button
Ah yes, finally.
VST3 support so I can use Dark Surge.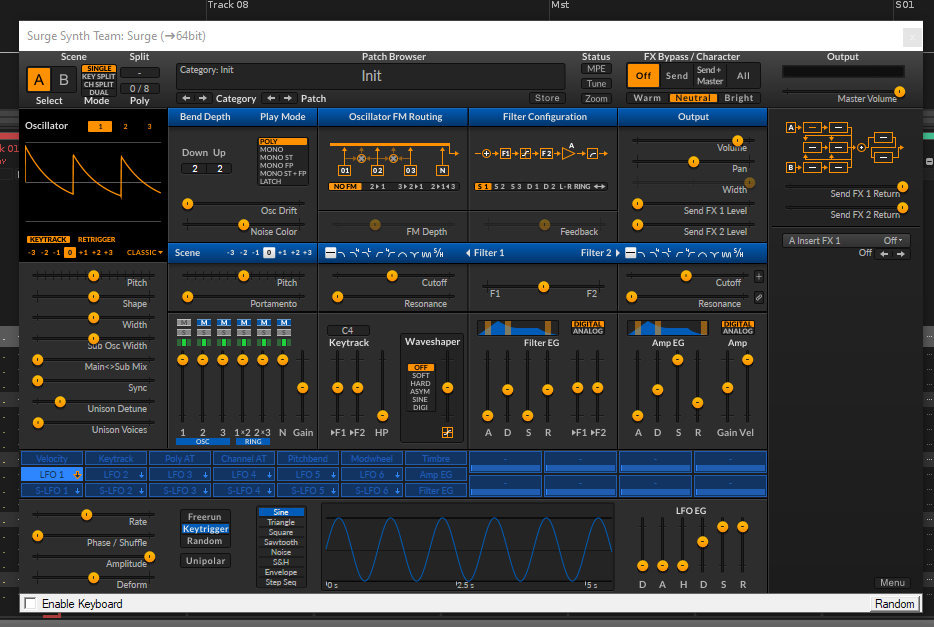 Finally! Congratulations to all dev team.
Happy New Year!
I don't have any issue with Izotope plugins, they are a little slow to initialize on last version too, it's just the Waves, I have removed them from the VST3 folders as SLiC said, I can live without them, that solves the issue.
The best thing ever!! Awesome. Thank you
There no way to automatically detect if there's a VST3 version of a VST2 plugin installed, but you could hide all VST2 plugins in Renoise which you no longer want to use without uninstalling it.
To do so, right click on all those VST2 plugins in the DSP FX or plugin instrument list and select "Hide selected". This also works on folders, which will then hide all plugins in that folder (vendor).
Your old songs will then still find and load the old VST2 plugin, if necessary, but you will no longer see them in Renoise unless you enable the "Show hidden plugins" option in the DSP FX or plugin instrument lists.
See also https://tutorials.renoise.com/wiki/Effect_Chains#Organizing_the_List
congrats dev team! awesome release
happy 2021!
So i have licence up to 3.1. Should i way until on update there will be "Renoise update 3.3" to maximize licence length, or update will be in my situation always from 3.2?
Finally new year's present I've been waiting for

And side chaining? Was that not announced or did I missed it? Anyway, what a great surprise! Thank you taktik and whole team that made this happen, happy 2021 to all!
Awesome work! Thanks for this New Year present!
THANK YOU!!! So excited for a new update!!
Bonus feature for 3.3, local send tracks: