Hello
I'm quite new to this forum (and to forum in general) so let me introduce myself quickly :
I make music since some years. Fist I sequenced on my MC505, then on Sonar (Warez). I made a song on buzz and an other on renoise (1.7 ?), then I tried Reaper 2.
I have always been interested on the soudtracker and searching for something working with midi gear.
Last year I decided to try Psycle and give another try to Renoise (1.91).
Finally I bough Renoise 2 and don't regret it!!
So there are a couple of ideas I'm summiting:
1- Ability to change track colour
Can help to find quickly your bassline track
see down
2- Ability to make horizontal axis
If you want to determinate where you will make this terrible break or where you have heard something wrong…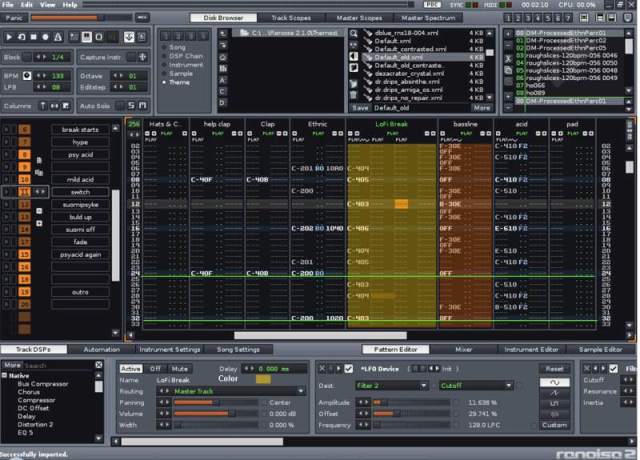 3- I love the ability to search a patch name in the vst instrument, Renoise is great for that. But sometime I'm searching for a killer bass. So I tape bass, but on this vst I have 48 bass preset not well tidy. I try the fist one, it's not good. Then I tape bass, I try the second one, it's not good, then I tape bass… Can it be quicker? I would appreciate if my search was memorized to jump quiker into patch.
What do you think of that ?