I was thinking of purchasing an external effects unit to process my synths, since my audio interface (Steinberg UR-44) has 4 line-outs in addition to the headphone/speaker line-outs.
I was looking to keep the synth plugged into the line-in and route the signal to one of the line-out busses and then to the effects unit using a send device, since I might want to also keep the full dry signal for other uses, although I do understand I could also directly patch the synth's output to the effects unit.
What my question is is how would I access those line-outs on renoise? I don't have an effects unit right now to test, so I wanted to ask. I see that under the drop-down menu on each track there are a couple options for routing.
7430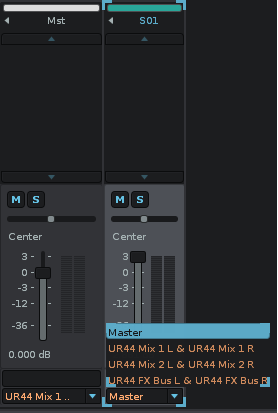 Are these routing options for the speakers/headphone mixes only or do they also correspond with the line-outs on my audio interface? One buss is the built-in effects bus for the reverb and compressor, which I'm not too worried about, but the mix 1 routing option is usually what my master track is routed to. The second one seems to correspond to the mix 2.
The block diagram in the manual seems to tell me that Mix 1 addresses the first two line-outs and Mix 2 does the second two. Mix 1 seems to be grouped with the main/phone output.