Renoise 64bit - v3.4.2 (Apr 25 2022)
Windows 10 64bit Pro
While editing a pattern with highthat samples i noticed the volume command was not working on an added column in a track. Thought maybe it was because of the Rxx command. vol stayed at 100%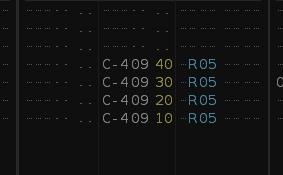 I moved the samples over to the left and the volume command works again.

I tried adding a 3rd column and moving them to the right again. Same thing. Vol is ignored.


When I remove the Rxx commands, now Vol works on every added column

I also tried moving the Rxx commands to a second fx column and the samples to the second note column. Seems to make no difference. it only works when the notes are on the first column.

This seems like a bug, FX commands should work for the line regardless shouldn't they?