Hello everyone!
I've searched these forums and other sites found on google too, but can't seem to find the answer to my question.
My question is; How do i create longer notes/chords in Renoise? When i find for example a bass-sound i wanna use for a bassline in the "instrument editior" and then record and play on the keyboard (this is the keyboard on my laptop at the moment, because i haven't got my MIDI-keyboard with me in this apartment yet) it creates a lot of short chords of the keys i play. For example if i want to hold a bass-note for more than a second, it doesnt create one long chord, but many short ones. Like if i were tapping the key instead of holding the key.
-I've attached a picture of the issue i'm talking about below this… I want ONE long note instead of those many single-notes.
5228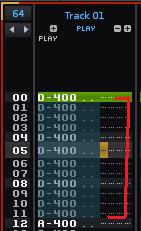 If there is a topic about this, then please link it in here, because i've searched for "long notes", "long strokes", "long chords" etc etc without any luck…
Thank you for taking your time to read this!