The Invisibles. But it's the only one i've properly read…
Ahhh yah,
One of the first ones i bought actually. Really dark, scratchy art.
Did you know, Brandon Lee (bruce lee's son who played the crow in the movie) died in the scene where he jumps on the table and they all shoot him, (not in the book) because someone forgot (or intentionally) didnt remove the real bullets from the gun?
Messed up.
Vaughn bode Dead bone erotica and junkwaffel …cheech wiZzz…arD
jim woodring 'frank ' …( mental …no texts …pure graphical tripping )
and of course everything byJean Giraud 'Moebius' …hermetic garage …etc metal hurlant , etc = He started it all in the seventies /made some real masterpieces together wit Jodorowsky …
For fun …Robert Crumb …cause it's real

OWWHH sheit, FRANK, i forgot about that.
I love that book to the moon. I've got some of the original comics h'actually too.
Robert Crumb, i didnt know the name, but just wikied it and he's part of that whole Bijou comix thing…Same lines as the Freaky Brothers…his comic Fritz the Cat is my Fave.


I haven't heard of the other two at all. Will definitely check them out…
The Filth is a masterpiece.
Can not start a thread about comics without knowing moebius or Vaughn

( which is in fact an inferior description of Graphic art …bande desinnees …the seventh art )
Type in google moebius piuctiues and be amazed
His work for the seventies was for a frenchmagasine called 'metal hurlant ' which means heavy metal …also published in the u.s. …The closed garage ( continium gaage hermetique )
Then he made some things with jodorowky a 5 part cosmic journey …'the incal' the protagonist of the story 'John Difool' ( their name for 'mercaba' )
A lot of spin off's from there …
Check it out …
I was totally obsessed with his work during my teenager years …moebius +aphex +some substances = what made me today =

There are those that beef with calling it a graphic novel but that's how it is almost always read so I'll say Watchmen. It might not be my favorite but it is awfully good.
My most absolute favorite of ALL time:
http://en.wikipedia.org/wiki/Hard_Boiled_(comic)
-It wasn't a graphic novel at the begining when I read it but it can be bought on amazon as a graphic novel now-
It has Frank's classic dark film-noir brutal style with Darrow's crazy ultra robot-violence & futurestyle.
Haha, apologies. Although i consider myself educated in comics. I'm not a fanatic as such…i havent even read watchmen!

(although i have read the modern "equivalent" The Boys)
With comix, my main expertise lies in 2000AD.

When I was 18 and listening to indie rock the whole time, it was blankets by craig thompson, but I dunno now I'm a little bit older it's not so easy to pick a favourite.
But the stuff i dig is:
Y the last man(so much).
Any Hellboy/BPRD
Bone
Chris Ware
Dan Clowes.
I've never got into grant morrison.
I need to spend more money on comics.
RAD!
borag thungg
(actually i had to look that up, it's been a few years, but yeah 2000ad is awesome.)
Yeah frank miller …Sin city anyone ?
I didn't really like hard boiled …the drawings are so liffeless …but sick nonethelles …
the chainsaw scene

Yeah frank miller …Sin city anyone ?
I didn't really like hard boiled …the drawings are so liffeless …but sick nonethelles …
the chainsaw scene

Ohh yeah some more
Tardi …
Enki Bilal …
Cadelo …
Milo Manara …
T.LIberatore …most famous work …ranx
The Inkal
Except the end which I did not like. But it doesn't matter its still one of the best out of the hundreds I have read.
It was going to be a movie, though this trailer does not do the novel, any justice.
http://www.youtube.com/watch?v=OBktKOQGBYA
There is another one but I can't remember its name have it somewhere.
The Watchmen, Alan Moore and Dave Gibbons
Le Minuscule Mousquetaire, Joan Sfar
La Tetralogie du Montre, Enki Bilal
…Moebius
Black Hole, Charles Burns
Le Grand Pouvoir du Chninkel, Jean Van Hamme and Grzegorz Rosinski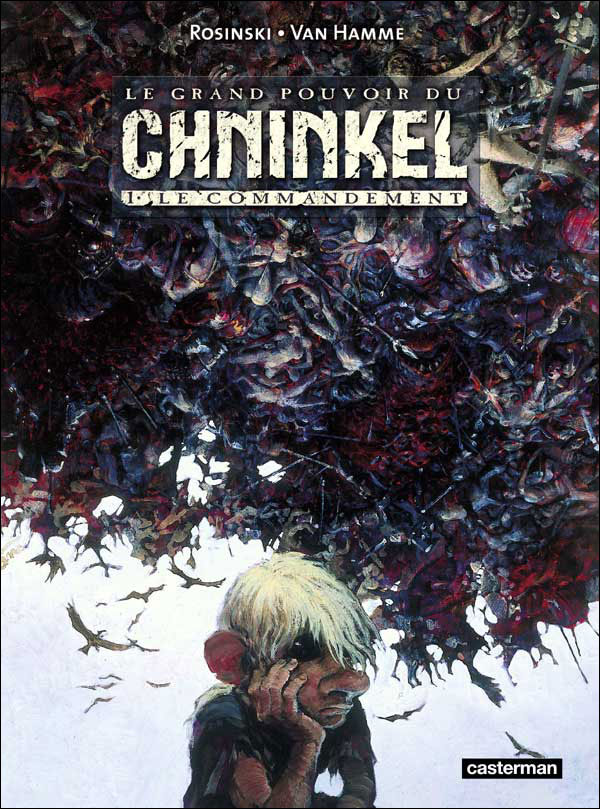 L'Ascenscion du Haut Mal (Epileptic) by David B. is also something that I discovered this year and I love it !
I probably forgot a lot of stuff so i'll come back

This is the way !
i enjoyed david boring and ghostworld alot
Forgot about THIS one, Jimmy Corrigan.
"Mazing art"
I do love watchmen the film was pretty decent too, i would love to get into the Death Note series
GHOST WORLD by Daniel Clowes.