Hello,
As I use Redux in Bitwig (LInux Mint 17, KDE) the computer keyboard for playing notes some times does not work. As 'z' is pressed the hexagonal z blinks accordingly but the view meter at the top right does not show any audio activity. There is a sample loaded and the octave is set right. I reported a same problem some time ago when using Ardour. Since then I haven't used Redux but now I'm getting back to it, in Bitwig this time, and find the same problem. The problem was possiblytraced to Ardour not handling some calls in the proper manner I think.
Redux loaded stand-alone using the carla host (1), and loading the same Redux instrument, does not have this problem at all. The 'z' is pressed, the /z/ hexagon blinks, the VU meter shwos activity, and there's audio output. Every time it is tried.
The hexagonal z key blinks but Redux is not ackowledging it since it does not provide any audio output.
(1) carla-single vst /usr/lib/lxvst/Redux/renoise_redux.so
7231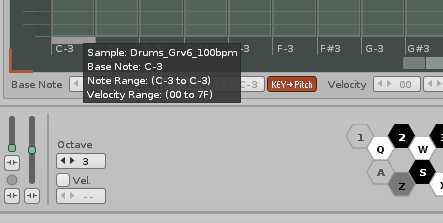 7232