Something that kinda bothers me in Renoise, now that I'm using mostly MIDI instruments instead of samples, is the way note data like note on, note off and velocity are different objects that I have to edit separately.
So I'm suggesting an option to make all note data linked, preferably with some graphic indication, kinda like this: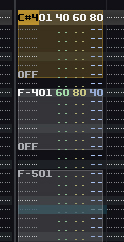 So pressing delete would erase all the note data.
Deleting other data than note on would simply delete that value but keep the rest.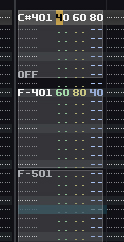 Would there be any drawbacks to this? Not the way I currently use Renoise, but to others it may, so I'm asking? When would you want to delete the note on but keep note off, velocity etc?
If notes were treated like objects in this manner, I think it would make the step from a traditional DAW to Renoise a bit easier. While you still can edit the details just like we do now.