Hello people,
i´d like to share a little tool of mine : MIDI2MV
and hope that it might be useful to anyone of you.
Since i always wanted to be able to control the master output of an audio interface via MIDI controller,
i made this little helper: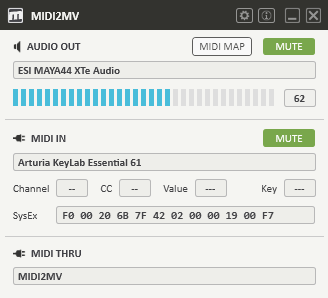 It features an OSD…

…and a MIDI-Thru option.
The MIDI-Thru is helpful if you have a MIDI loopback device installed (like loopMIDI).
So you can use that port as MIDI-In in Renoise for example.
(SInce under Windows a MIDI port can only be opened exclusively by any one application)
Startup options and OSD display duration can be set in the settings.
Please note that the project is rather old, so in case you find a bug - don´t hesitate to notify me.
Cheers!