Hi Folks
I need advice on loudness mastering. I record a song from Renoise output to Ardour input via Jack using these maximizer settings:
With this setting I get a non-clipping audio, relatively dynamic that peaks at -0.1 db. When I analyze this audio with ardour's loudness analysis, I get:
Then I use Ardour's loudness assistant to keep dbTP at -1.0 dBTP and I don't set a target for LUFS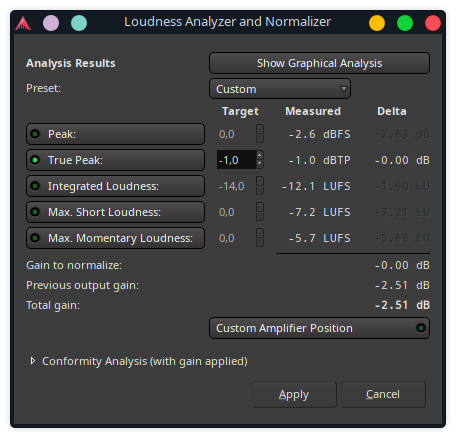 As a result of exporting like this you can see, my dBFS peak has been reduced to -2.6dBFS and True peak at -1.0 dB and LUFS at -12.1. If I set a target for LUFS with the assistant I get much lower dBTP (around -3.0)
Is this approach a correct one to adjust loudness for streaming platforms, should I target LUFS instead or am I missing something else?
Thanks