Hello,
today I wrote a tool which name says all: Crossfader. I just wanted to be able to crossfade between (send) tracks.
With ASIO and multiple outputs, it is also possible to determine additional send tracks for cueing/prelistening the mixing with headphones. To achieve that, you have to set four send devices: two master and two prelistening sends. Then set per track two send devices: First the prelistening Send with "Keep source" enabled, and then as master with "Mute source" enabled.
3752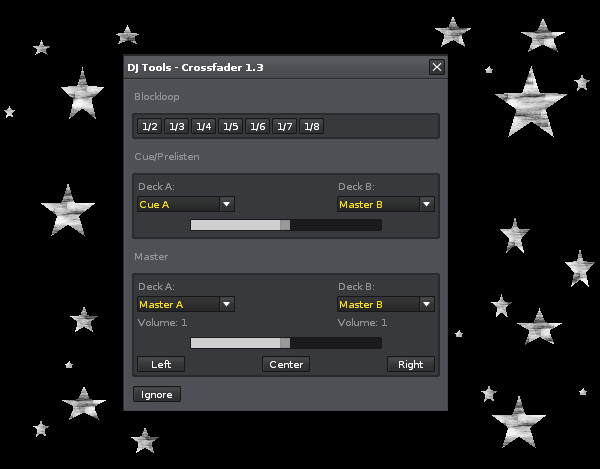 The sliders can be controlled via midi.
I guess the rest of the tool is quite self-explanatory, anyhow any comments, bug reports, ideas welcome.

/>/>
Download (1.3):
from Tools page
v1.3:
added keybinding to start the tool via custom key combination (Preferences->Keys->Global->Tools->DJ Tools-Crossfader)
added "Left", "Center", "Right" buttons: sets the master crossfader directly to the left, center or right without fading.
added "Ignore" button: if activated, moving the master crossfader sends no values (helpful for controlling the crossfader with midi).
PS: I know there is e.g. the hydra device to crossfade, but the problem is, that on the most left and most right of the crossfader, the volume is higher than in the middle (what is no real crossfade behaviour)