This is a very early version of this tool for testing and feedback, it allows you to fade between 4 different samples in realtime and to modulate these parameters using meta devices.
3696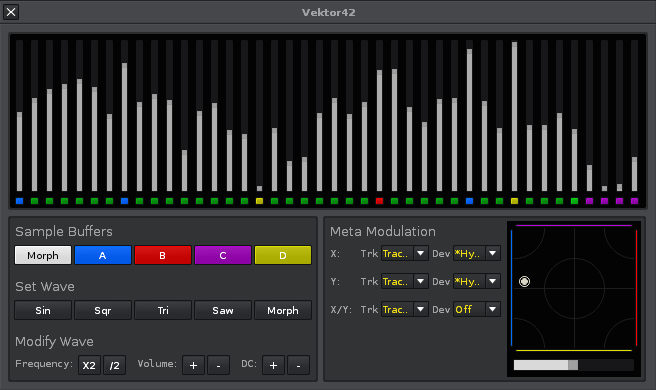 Basic usage…
Select any of the 4 buffers, set a waveform and modify it to taste. When a buffer is selected you can also use the sliders to modify the waveform. When 'morph' is selected you can lock any of the sample positions to any of the buffers by clicking the buttons below the sliders.
You can then use the XY Pad to fade/morph between the 4 samples. The slider below the XY Pad adjusts the balance between the samples on the X & Y axis, in effect you have 3 morphs going on - A&B and C&D and then between A&B and C&D, play with it and it will make sense.
These three fades can be modulated with meta devices, stick with a Hydra for now as I've only really tested it with this. Select the track and the device and the first parameter will be used as the modulation value. I recommend you use different devices for each axis.
It works fine for most samples, however if you get pops and clicks set the instrument interpolation to none.
As it works in realtime you will need to use Rewire or Jack to render the output if you are using the modulation. You can however just use the static samples and use it as a sample generator.
I think I have ironed out most bugs now but I would welcome any feedback, particularly on what the sound quality is like on other systems. Thanks