Hello,
I put it in the wrong forum before.
ReSpeak is a graphical extension to the TTS program Espeak.
It is an offline text-to-speech converter.
I think no further explanation is needed, the controls are sparse.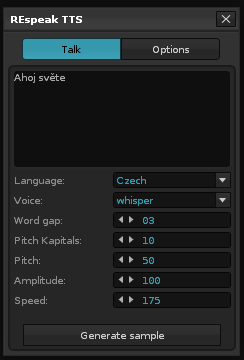 cz.martblek.ReSpeak_v03.xrnx (4.6 KB)
v0.03
Run on Win10 tested directly by me.
Espeak, the path to the binary is currently saved with the profile settings
The base path is set globally to "espeak" for easier running on Linux
and also Win for the one who has the path variable set.
Removed deleting created samples by espeak. Now is temporary file used.
I ask Win users not to install espeak in a directory whose path contains spaces.
The tool will then not work.Yet
cz.martblek.REspeak_v02.1.xrnx (5.1 KB)
v0.02.1
missing line for saving text
v0.02
added buttons for executable file and temporary sample storage selections.
the ability to keep the created wav file from espeak
creating one or more samples for the instrument
resolved an issue with loading into a multiline text field
cz.martblek.REspeak_v02.xrnx (5.1 KB)
Still tested on Linux, No Win or Mac here.
Every language and voice is set according to my setup for espeak.
Some languages and voices may not work for you.