Hello again,
After having a burning desire to track how much time I actually spent on each of my songs, and reading a few requests for such a thing in the forum, I put a time tracker tool together.
It's a totally automatic time tracker for monitoring time spent on each song. If you have the tool installed, it will just work in the background, without altering your workflow in any way. If you choose to open the tool's dialog, you'll see the tool window below update in realtime based on your usage.
Saving the file will save the tracking information for the time you spent. If you open a file, fiddle a bit, and close it without saving, no tracking data will be altered.
The tool classifies time spent based on activity, for insight into which tasks take the most time.
To do this, the tool will create a report file alongside each of your opened XRNS song files:
songname.xrns - Your Renoise song file
songname.time-report.txt - A text file containing a human-readable report of how much time was spent on the song. Updates automatically whenever you save the song.
Renoise tool window: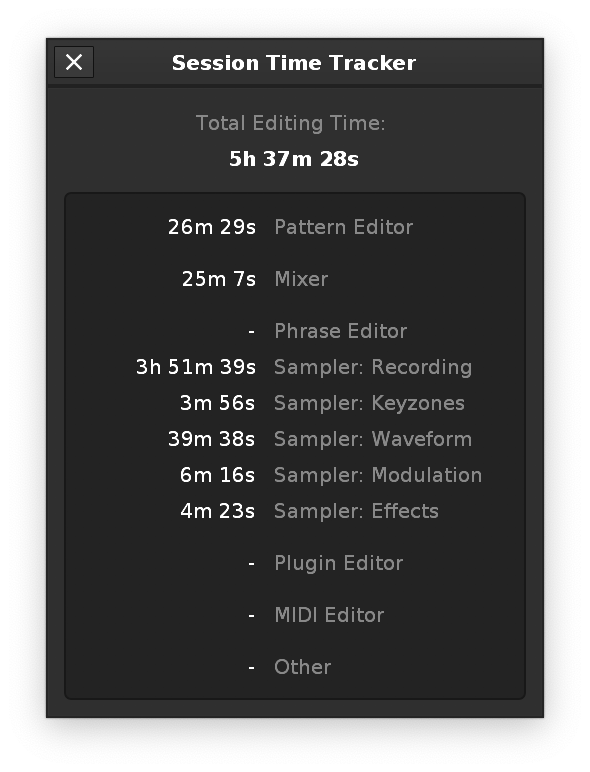 Text report:

v1.2: 2020-06-03
NEW: Data files now tucked away in tool folder
Shorter report filename – FOO.tracked_time.report.txt -> FOO.time-report.txt
Conflict management / data file merging
Export button to save a time report to the folder of your choice
Fix for potential Windows path issue
v1.1: 2020-06-01
Improved performance
Bug fixes
v1.0:
Automatically works in the background, unobtrusively keeping time records
Classifies time spent based on activity.
Automatically carries over old time tracking data when "Save Song As…"
Stops counting automatically when Renoise loses focus
Correctly handles computer suspend / lid closed by restarting time on resume
Writes out textual report on song save
KNOWN ISSUES:
Can only determine usage and time spent from the moment the tool is installed and data collection begins.
---
Download here: https://www.renoise.com/tools/session-time-tracker
I'm also finishing up another workflow tool that I'll probably release in a couple of days, so keep an eye out. (Edit: released!)
Enjoy, and let me know how it goes!