I'm having issues with Renoise not co-operating with the pitch bend wheel on my M-Audio MidAir 25 controller.
It's fine as long as I don't touch it. But as soon as the pitch wheel moves, Renoise seems to think it's stuck halfway up. The hardware controller then only moves it from 100% to 0% with neutral being at 50% (where it should normally be going from 100% to -100% with neutral being 0%).
This is a problem, as it seems to also be a very sensitive pitch wheel, with minuscule movements detected even when I don't touch it. Which wouldn't be a problem normally, except that the minuscule movements result in the above happening and all of a sudden the synth in question is a semitone sharp.
7683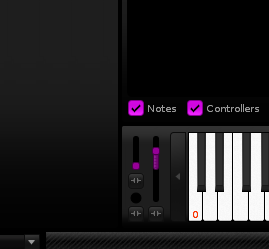 This image is a screenshot of what Renoise is showing the pitch bend at, while the controller is in the default neutral position.
Looking at the MIDI log, I can see that 100% up on the wheel shows a value of +8191, and 100% down on the wheel shows a value of -2115. The 0 value is about 80% down on the controller position. Renoise seems to be wanting the 0 value to be the neutral position. However when the controller is at the neutral position, Renoise MIDI log is showing me a value of about +5020… Is the controller just weird or can I fix this?
The only solution I have found so far is to restart Renoise. And unplug this controller. Not ideal, so wondering if anyone knows how I can figure out what's actually causing this and how to fix it, thanks.
EDIT: I'm seeing this in other DAWs as well so it doesn't seem to be exclusive to Renoise. That's leading me to believe the pitch wheel is just rubbish/broken.
I don't actually use the pitch wheel for anything so this is a bit annoying as it's rendering the whole controller unusable at the moment. Is there a way to get renoise to just ignore it's commands? I tried disconnecting it from the board inside the controller but that seemed to set it to permanent 100% up…