This is a very simple tool to aid in tuning samples and other sample work, updated for 2.8 with some small additions I have made for personal use. Select a portion of a sample (usually a single cycle), or make no selection to use the entire sample, then context menu Process -> Calculate Tuning… The tool will then output the following.
3322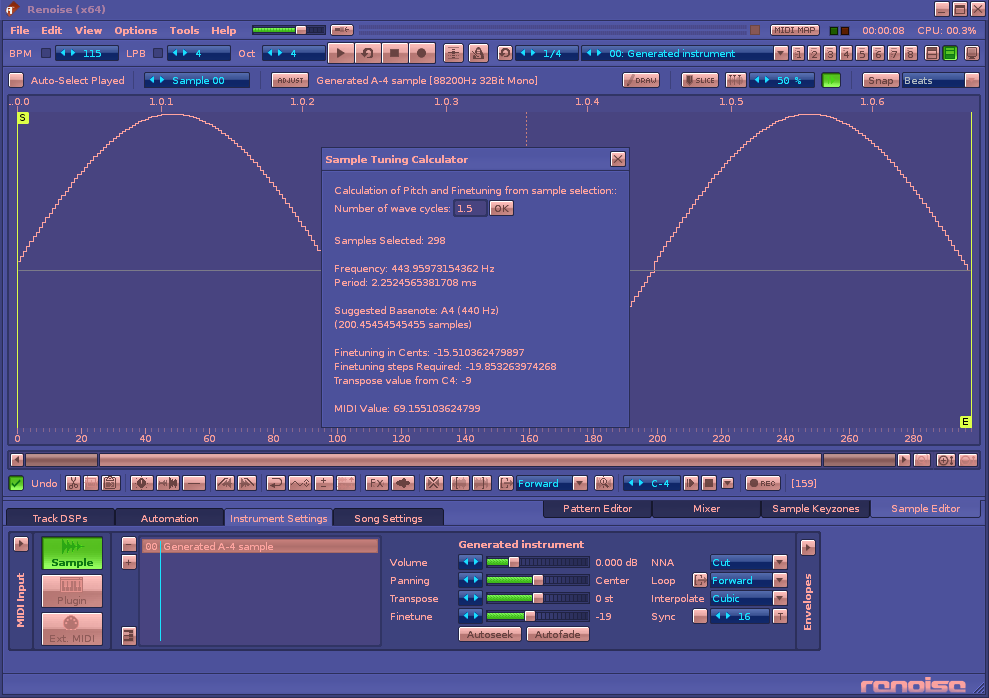 Option to input the number of cycles selected, defaults to 1. Number of sample frames selected. The frequency of the selection. The time in ms for the sample to play, i.e. period. The nearest note (suggested basenote) in scientific pitch notation (C4). The frequency of the nearest note and the number of samples required, at the current sample rate, to achieve that frequency. Finetuning in cents to reach the nearest note. Finetuning steps in Renoise (1.28*Cents) to reach the nearest note. The transpose value from C4, which is an alternative to changing the basenote. Finally, the midi value of the current selection.
Any feedback or suggestions would be appreciated. Thanks to kazakore for his suggestions and the idea of determining fine tuning and the transpose values.
2.8
3321 com.JupiterXLI.SampleTuningCalc.xrnx
Older version
2.7
2296 com.JupiterXLI.SampleTuningCalc.xrnx