Chordpad is another son tool of VPDpro.It is designed to bombard the selected track of chords, both in the normal edition and in live writing.It is possible to control it by means of the mouse , or by means of MIDI Input.
7866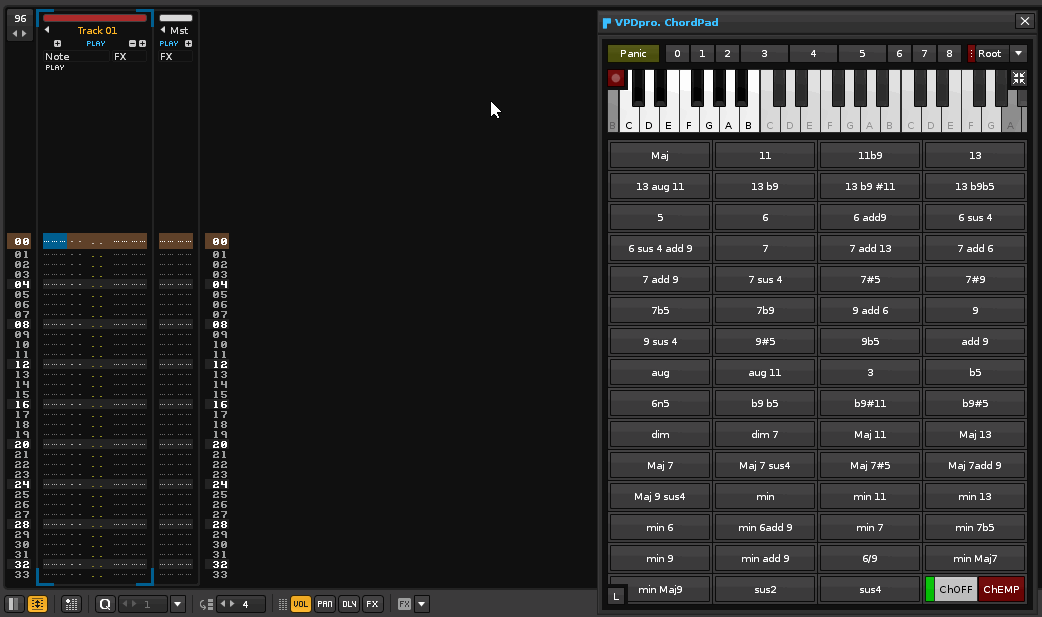 ChordPad is divided into three parts. In the upper part there is an octave selector. In the middle part, there is a virtual piano, with 12 effective notes , representing a complete octave. In the lower part there is a frame with up to 59 pads of chord types.
ChordPad is capable of playing the 59 types of chords and changing its octave and root note directly, without any expensive and overloaded graphic interface.You can play any type of chord to change, or change the root note directly from the virtual piano. So you can play or record more than 5900 chords with this simple GUI.To start playing, initially it is necessary to select a octave and a root note.The interesting thing is that you can handle the 12 keys of the virtual piano and the types of chords with 12 pads and a pair of wheels from a MIDI pad or MIDI keyboard.It is very fun to play with these peripherals.Using only the mouse is also fun, but through MIDI Input you can change faster, and directly control the transposition of the chord.
7867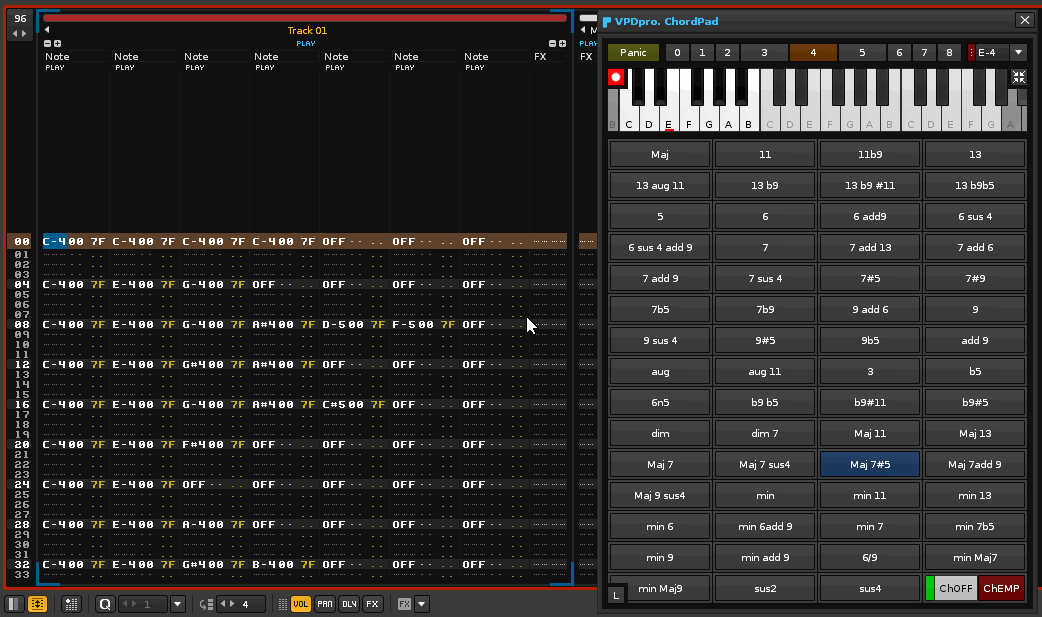 ChordPad shows the notes that form the chord when the user plays. In addition, it is able to recognize/locate the type of chord as reproduced in the pattern editor, from the root note selected in pattern editor.
Two more details included are the mother tool, VPDpro. The first is the volume bar, which controls the volume value of each note of each chord before it is written. In addition, VPDpro allows to migrate each track pattern to the selected phrase of the selected instrument and vice versa, in case the user needs to migrate their chords or rhythms within a phrase.
ChordPad uses OSC Server to sound and record the notes/chords.In the live recording, also write the values of Delay and the notes-OFFs , as they are reproduced. ChordPad is ais a sister module of the vertical virtual piano integrated in VPDpro window.This vertical virtual piano is used to play and record notes in the pattern editor through the mouse. A keyboard is not necessary to compose.It is just one more help supplement…
A compact mode completes this ChordPad window:
[sharedmedia=core:attachments:7637]
The virtual vertical piano is here (the next capture is obsolete), integred inside VPDpro, to right:
[sharedmedia=core:attachments:7636]