This week I bought a used akai MPD26 (it seems that I became a fan of akai products somehow),
so I made the Duplex configration for it.

1688 MPD26.zip
1- Download and unzip this file
2- Put the MPD26 folder into C:\Users\YourName\AppData\Roaming\Renoise\V2.6.1\Scripts\Tools\com.renoise.Duplex.xrnx\Duplex\Controllers
3- Load any "Generic" preset in MPD26
4- Go into edit mode, press one of the transport buttons and change TRANSPORT-assign from MIDI/MMC to "CTRL", then save
5- Turn on the "FULL LEVEL" mode for certain pad operations
6- Rename the preset to "Renoise"!!

1689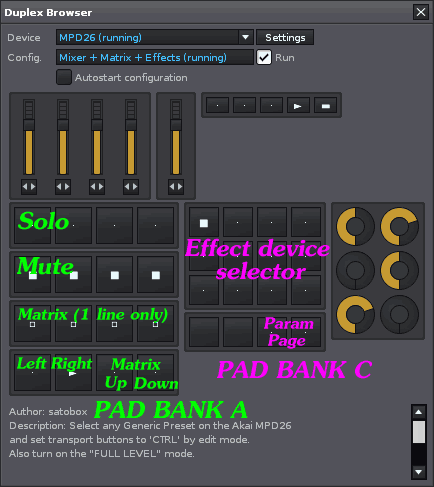 [Note] You cannot use simple note playing and Duplex's pad operation at the same time, since both use the same note signals. If you want to play pads, close Duplex port and use Renoise native midi port instead.(or make another mapping without Pads section)