Hey, so this has been bothering me for ages now.
My project files that use multiple instances of Kontakt and/or EastWest Play load extremely slowly and often just hang for minutes. Most of my older projects also tend to just hang forever on load and need to be force closed. It's only after multiple attempts that you may get them to load properly. Projects on more recent Renoise versions (and sandboxing plugins) seems to have helped with the endless hangs, but the load times are still insane.
Here's a video of how the load process goes (on an extremely vsti heavy file):
And this is after loading the file: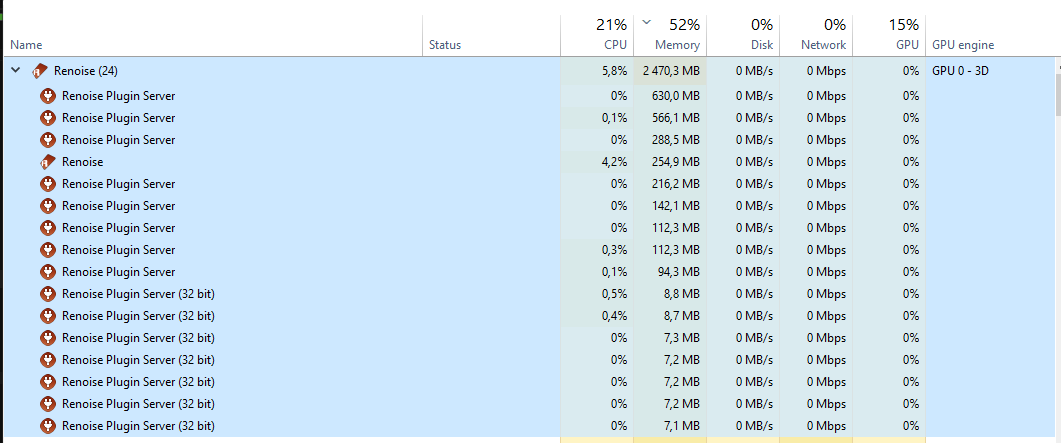 My computer specs are i7-9700 @ 4.2ghz, 16gb ram, windows10 pro. Renoise is on an M2 NVMe drive and plugins and the sample libraries are on a Samsung 860 EVO pro.
Any idea on what the bottleneck is? The problem is the same in project files that don't even peak memory usage that much. On a related note, loading big kontakt libraries within Renoise takes ages - there's also a similar kind of long hang before the library actually starts loading. Standalone Kontakt and other DAWs start loading the instruments instantly.
It should also be noted that the issue has persisted through multiple different PCs, Windows, Renoise and Kontakt versions.