MorphSynth is a (somewhat experimental) sample generator capable of creating complex waveforms through the combination of morphing oscillators, two operators FM and ring modulation.
You can download the latest version on the tool page.
6115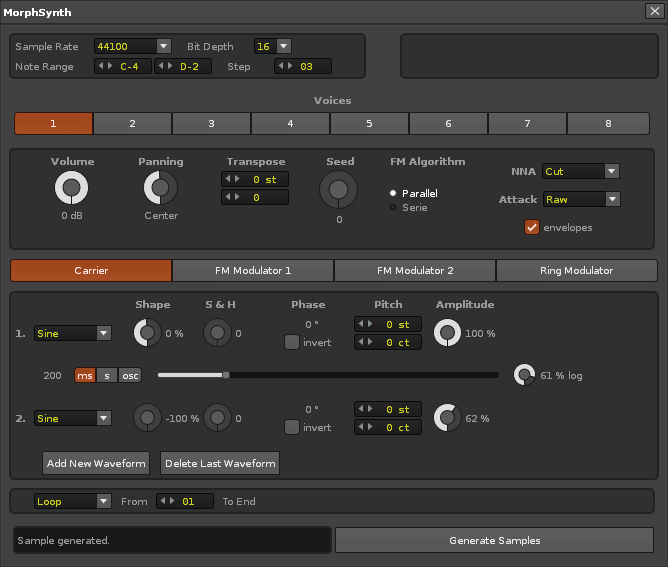 How to use it:
Right click an empty slot in the instrument list and choose "MorphSynth Instrument…" in the menu.
The first section of the window is for global settings that affect the whole instrument (sample rate, note range).
Next come the voice selector.
The following section is for settings that affect the current voice: volume, panning, etc.
Below that you can choose whether you edit the main audio signal (carrier), the FM modulators, or the Ring Modulator.
Next is the main section, where you can set up the various oscillators shapes of the current voice, and the duration between them.
The last section controls how the voice is looped.
When you're done with the settings, the "Generate" button will create the samples.
Notes:
You can layer MorphSynth on an already existing instrument, it should not interfere. For example, it's possible to have both PadSynth and MorphSynth on the same instrument.
Almost all waveform shapes start at 0 with the default phase, in order to avoid clicks.
Currently, looping is somewhat broken when using pitch modulation.
If you have a very short loop (a few oscillations), you should consider using the 440000 sample rate (not 441000), and a note range based on a "A" note, with a step of 12. This way you'll avoid truncation errors (which can create unwanted harmonics)
Any feedback or question is welcomed!
Previous Versions