This is my first tool!

This tool makes it possible to use letters as markers of different positions
in the renoise GUI. Positions remembered include:
Pattern, track, line and note column
Selected instrument
Selected device
Middle panel view
Active upper and lower panel
Marks added will be saved in the song and will be restored when the song is
reopened at a later time. They are saved in the Marks instrument which is always the last instrument. (This is rather hacky, but works)
A screenshot of marks in the Beatslaughter demo song:
3081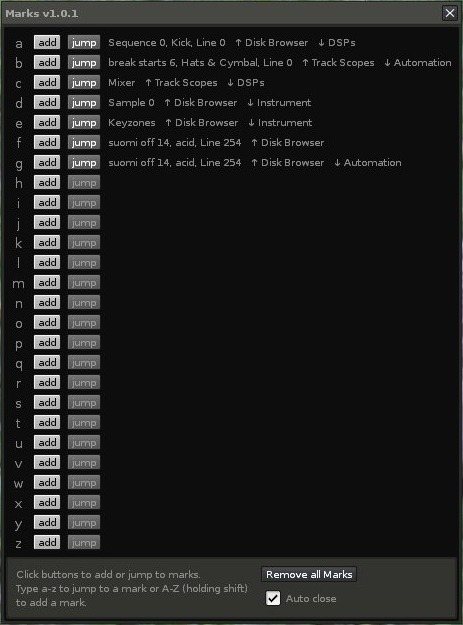 To use it map "Global:Tools:Marks" to a convenient shortcut to open the dialog.
ALT-d is convenient I think.
Press the "add" of "jump" buttons to add/jump to a mark. Typing lowercase
letters will jump to the mark and uppercase letters will save a mark.
2012-03-10: Uploaded it to the tools page! Get it here.
2012-03-10 v1.03 Better naming of marks
2012-03-09 v1.02 Nicer GUI, jump to mark while playing