MPE Musical Programming Environment (v3.7)
3308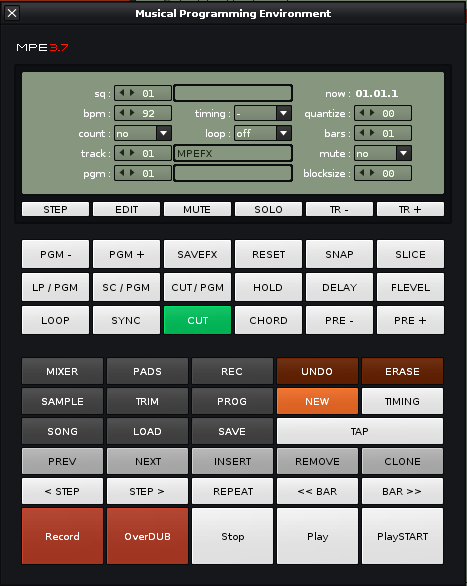 Sample TRIM Screen
3307

Sample PROGRAM/INSTRUMENT Screen
3306

If you are familiar with the series of drum machine/samplers from AKAI, in particular the MPC2000XL then you know how much fun it can be to make sampled music!
When I discovered Renoise I couldn't believe it! almost a substitute for my MPC! but, the interface is a little wide and has its own learning curve, nothing impossible just different. I wanted to control Renoise like I do my MPC. Quick access from one small set of buttons and the ability to create more or less bars quickly, erase a track or tap tempo to a track
I have combined a couple other tools (Show transport Stats & Tempo Tap) to create this, so a big thanks to the creators!
Just a little info regarding what an MPC is "From Wikipedia" …
Akai MPCs (originally MIDI Production Center, now Music Production Center) are a popular and well respected series of electronic musical instruments originally designed by Roger Linn and produced by the Japanese company Akai from 1988 onward.
MPC2000XL Operators Manual
Enjoy!
"SevenScientist"