A simple but flexible tool to create automation curves.
You can download the latest version on the tool page.
Usage: select a range in the automation editor, right click on it and choose "Autobender…" from the menu. The curve is created in real time while you adjust the parameters.
6215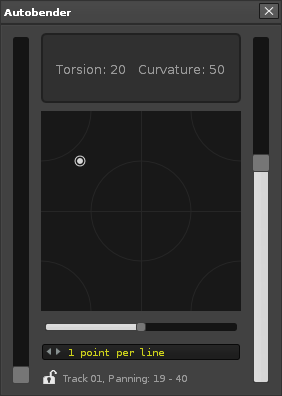 The two vertical sliders set the start and end values (they are also automatically updated when you change the selection).
The XY pad adjust the curve:

The vertical axis is the curvature (i.e. strength of the curve); at center the curve is a straight line.
The horizontal axis transforms the curve into an s-shape (at center the shape is perfectly symmetrical).

The horizontal slider below the pad adjust the "character" of the curve : middle is exponential, left is logarithmic, right is sinusoidal(-ish).
The box at the bottom defines how points are spaced on the curve.
Finally, the padlock icon at the bottom lock the currently selected range; this way you can make another selection and open a new Autobender window which will operate independently. This allows to edit multiple section of an automation curve at the same time.
I intend to keep the tool simple and to-the-point, so I probably won't add many features to it, if at all (also, this was more an offshoot of another project than a tool I intend to use). Obviously I'll fix bugs, and may tweaks a few things based on feedback.
I'm especially curious about the usability of the XY pad. I went through a lot of thinking and prototyping to find a solution that gives a large palette of musically relevant curves while staying simple enough. If you have any opinion on this, I'm glad to discuss it further.
Note: the idea to use a XY pad came from user gova in this thread, though I went in a different direction than the one proposed (i.e. not bezier curves).
Versions history :