New alpha Phase Mixer (WIP experiment; Windows Only for Phasebug part):
---
Tool Download:
(link to get Phasebug in post below)
ledger.scripts.PhaseMixer_V0.51.xrnx
Shortcut: Phase Mixer
---
Gives you a specialised UI to use multiple instances of the VST Phasebug and control dedicated renoise gainers to flip the polarity of tracks in renoise.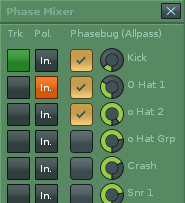 Phasebug VST allows continuous adjustment of phase of an audio signal so you can get more precise results than a simple phase invert. There are side-effects of its allpass filtering though, see here for more info:
Requires the old Betabugs 32bit Windows VST for second part of tool to work:
Has a latency of: 75.44 ms
- Download Free Phase correction plugin: PhaseBug by BetaBugsAudio
---
Each row in the tool contains:
Track Select button, which will also select Phasbug in the track
Enable/Disable/Add Phasebug to the track
Invert Phase [In.] button to flip the phase 180 degrees
Rotary to adjust the phase values in Phasebug (it adjusts left and right together which are independent in the plug).
NOTE: While double-clicking, the rotaries reset to 0 degrees in Phasebug, there is something wonky about either the plugs value reporting or translation to Lua values. I'll look int this but there may be slight inaccuracies when using the Invert button aswell - but you can always readjust things by hand with the rotary.
---
changelog:
v 0.51 uses native gainers for Inverse polarity switch with a bypass all button which will toggle those same gainers for A/Bing