I'm not sure if this is a commonly known trick, but i have just heard Renoise can't do granular synthesis and i haven't really thought about how a granular effect is being made.
The audio is chopped up into pieces of variable size with effects added to each 'grain', all in realtime and with parallell prosessing. I was almost lost at the chopping up part, but then i thought "why not use send tracks as 'grains'?"
It sounded a bit far fetched, but when i tried it i was quite surprised how well this actually worked. In this example i use 6 'grains', but you can make any number as long as your cpu is up for it.
Let me explain:
Add 6 send tracks for the grains and one as a bypass:



Add a gainer and set the output volume to -12 on all the grains tracks, but leave the bypass track as it is:
Grains:


Bypass:



Go to Track 01 (or any track for that matter) and add a Send device for all the grains like this:



Add a Send track for the Bypass in the front of the chain (turn it off and use it when you want to hear the dry signal):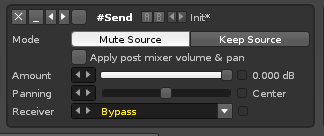 Now for the actual splitting, let's add an LFO that controls the grain sizes with it's frequency slider. Let's call it the master LFO:



Connect the LFO to a Hydra:



As you see, 6 LFO's are controlled from this Hydra, so go ahead and make 6 LFO's look like this:





Now, if you set everything exactly as i did here, then you should hear the exact same sound when you enable the bypass no matter which frequency you set the master LFO.
Now see what happens if you start adding different effects on the send tracks, then slide the frequency of the master LFO and you will hear the grains start changing size.
The higher the BPM and LPB the shorter you can make the grains.
GranularTest.xrns (578.9 KB)