Hi! I'm working on some new VST projects which i will release within the new year. Now my question:
These plugins also will be the first ones, which i also plan to release as Mac AU and Mac VST3 plugins.
I 'm working on Windows to develop my plugins and i'm able to port these plugins later to Mac. But i don't have a Mac for testing the proper work of these versions. So i wanna ask especially the Mac users if some of you are willing to beta-test these plugins, as soon as the're are ready for testing. I'm working on some unique ideas, that's what i can say for now.
I want to keep these ideas secret for the moment, because other plugin developers might also be interested in these ideas and i don't want them to steal my ideas.
If you're interested to help me testing these plugins within the new year on you Mac system, please reply or send me an email to:
P.S.: as always, all these plugins will be available as freeware when they'll be released.

P.P.S: i've developed a delay plugin a while ago and i also made a Mac AU version (no M1 support yet) of it, but until now i had no chance to test it on a Mac. Maybe the one or other could test it for me for proper work, so that i also can add the Mac version to my download page…
Here's the download link for the Mac version to test:
mastrcode-music.de/downloads/vst-plugins/T-Force%20Delay%20Mac%20AU%20version%202c.zip
I don't know if it will work, because i already mentioned, until now i had no chance to test on a Mac.
Here's a picture of the delay plugin: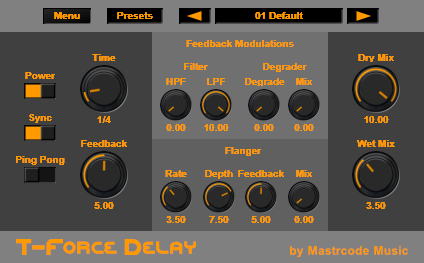 Thanks a lot!