Hi there
I'm on Renoise 3.2.1 on Windows 7 on an i7 Thinkpad T520.
I just updated to Komplete 12 Ultimate, which includes Massive X. Most of the NI plugins look/work great in Renoise, but for some reason the display on Massive X is glitching badly:
I tried the fix on this post, but unfortunately the "Gui compatibility options" pane doesn't display for me in my Plugin options box, so I'm not seeing the "Auto-scale external editor on HiDPI screens" option: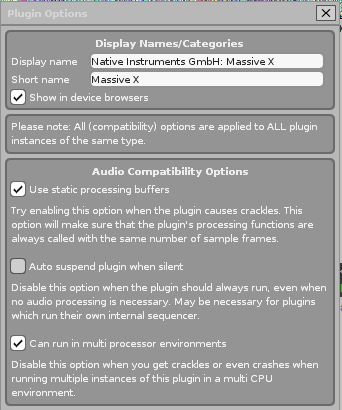 Perhaps it because I'm on an older machine with Windows 7 that this doesn't display for me, who knows. Whatever the reason, is there a workaround so that I can use Massive X in Renoise without it glitching?
Also, the instrument names aren't displaying in the instrument selector panel for Massive X and Reaktor 6. It shows that I'm using that plugin, but just displays "empty" or "none" after the plugin name even though I am selecting instruments within those plugins. See what I mean here (the correct behaviour can be seen for the Battery 4 and BassLine plugins):
The song happily reloads with the correct instruments upon closing and reopening, it just doesn't display the instrument on the selector panel in Renoise. A bit of a pain if I have several instances of Reaktor or Massive running, though I appreciate I can just rename them one-by-one.