A little green theme I've been working, the pattern editor looks really nice


I call it Binary because it sort of looks like a terminal, haha.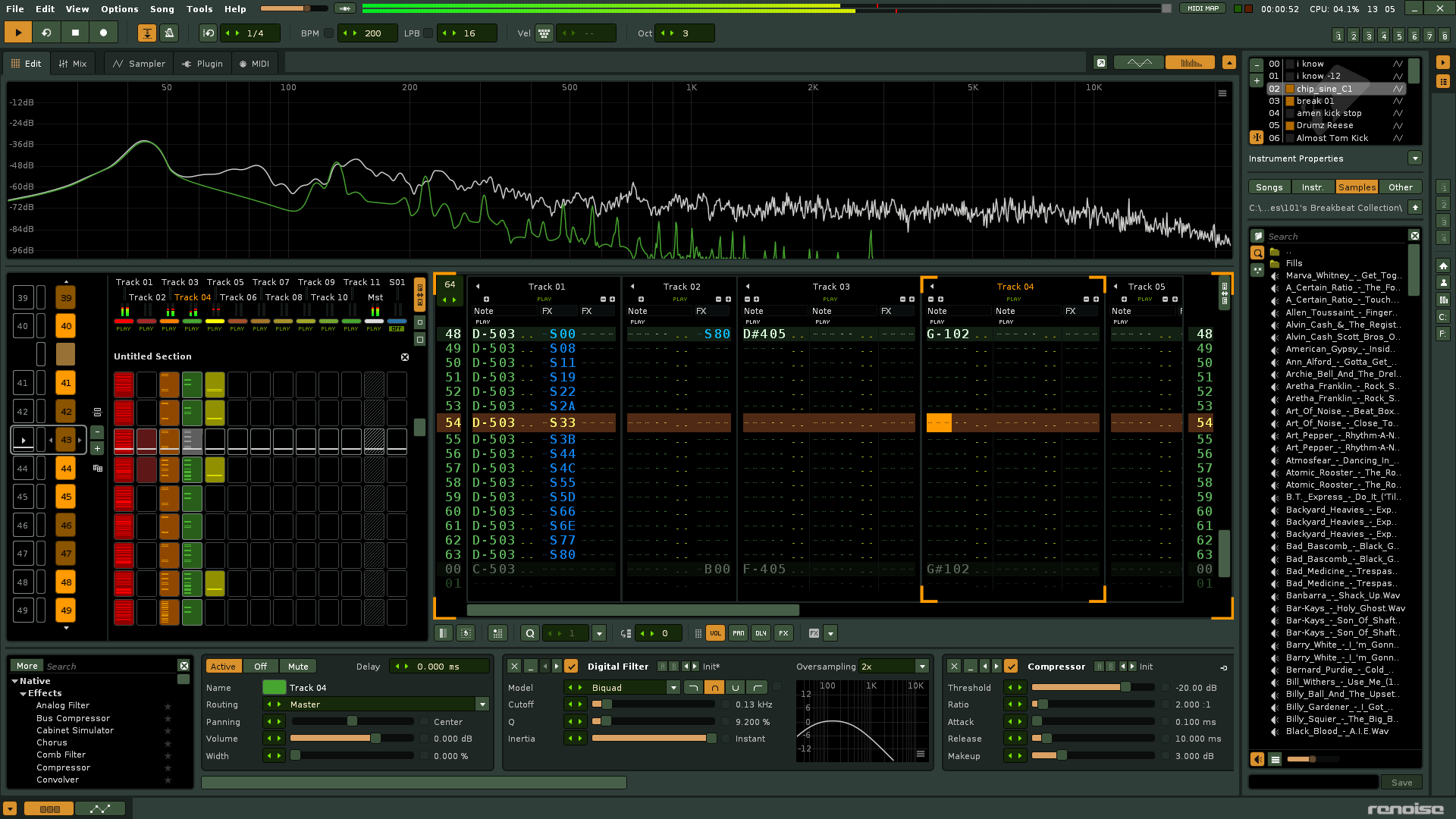 bata_binary.xrnc (5.0 KB)
Here is my color theme, hope that someone find it useful.
Renoise-rgb84-theme-spacedrone808.xrnc (5.0 KB)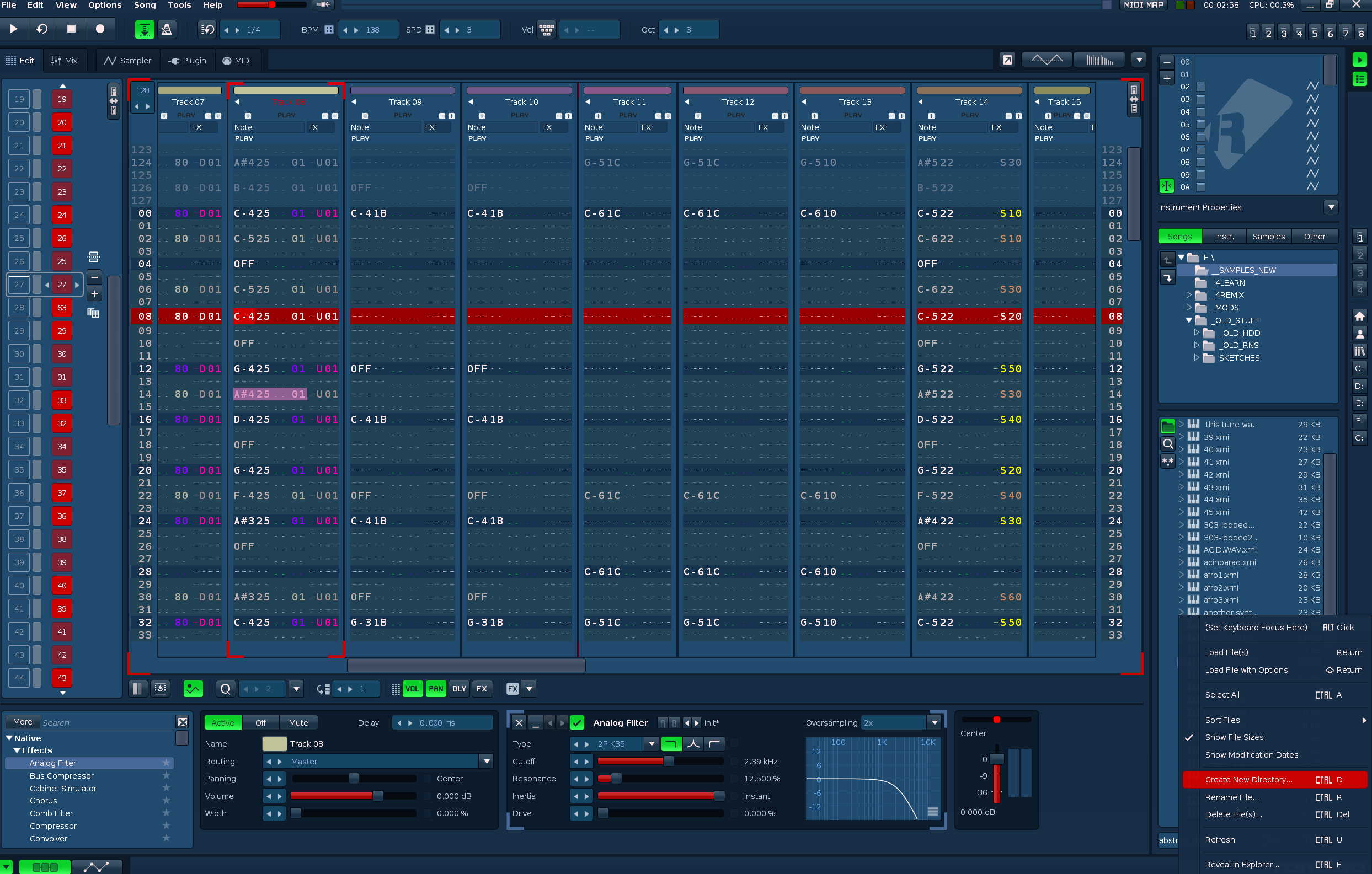 nice one! I like

This is so retro I love it
@NPC1 - could you kindly reupload your light themes? I am hoping to use Ableton and Autumntone Beauty in particular . . . .
Thanks!
New "Titanium-gray" Theme from me. I'd try to make something look's like a more professional Interface. Enjoy!
Features:
good contrast & visibility
fully FX assigned colors
green/yellow/red levelmeters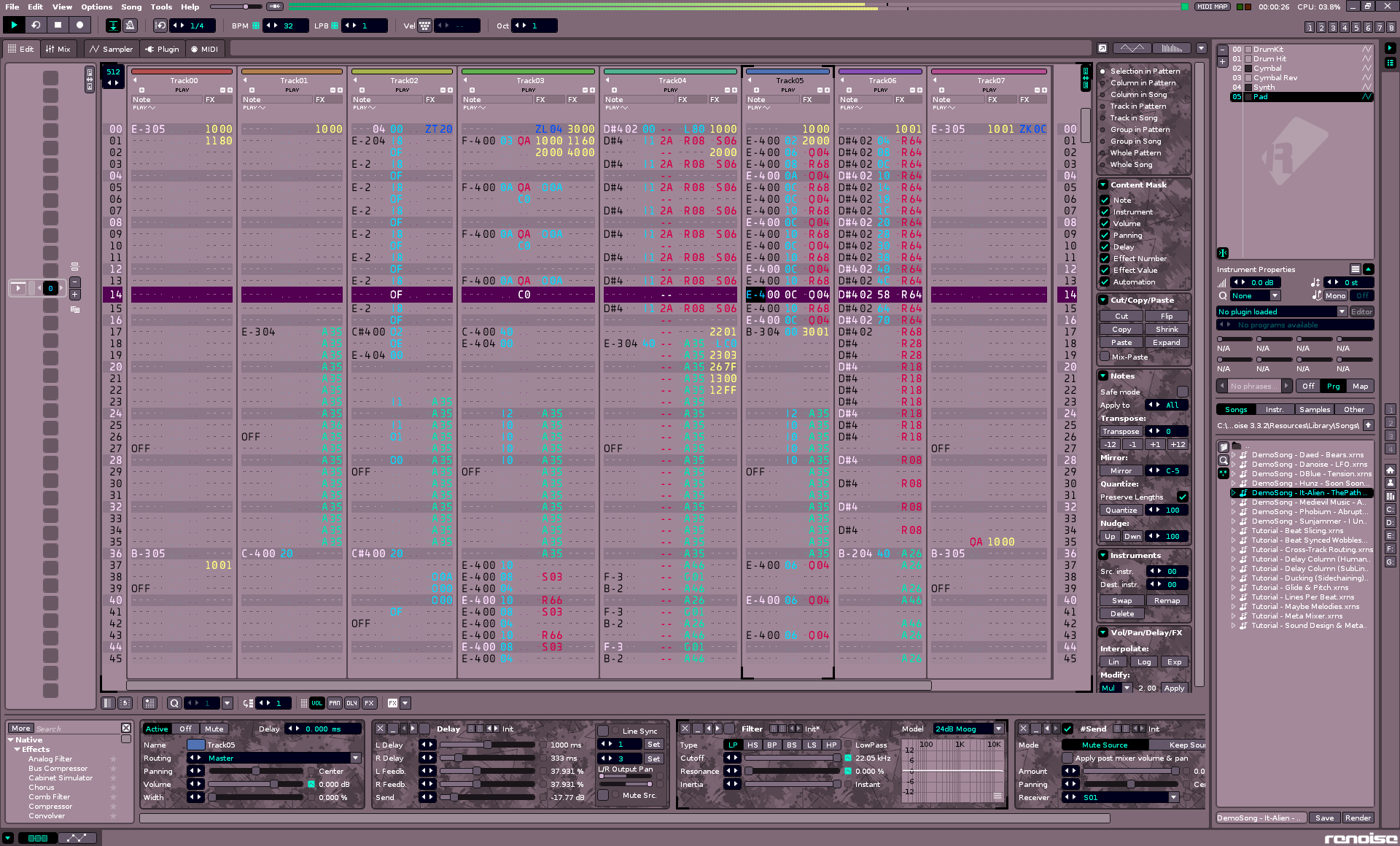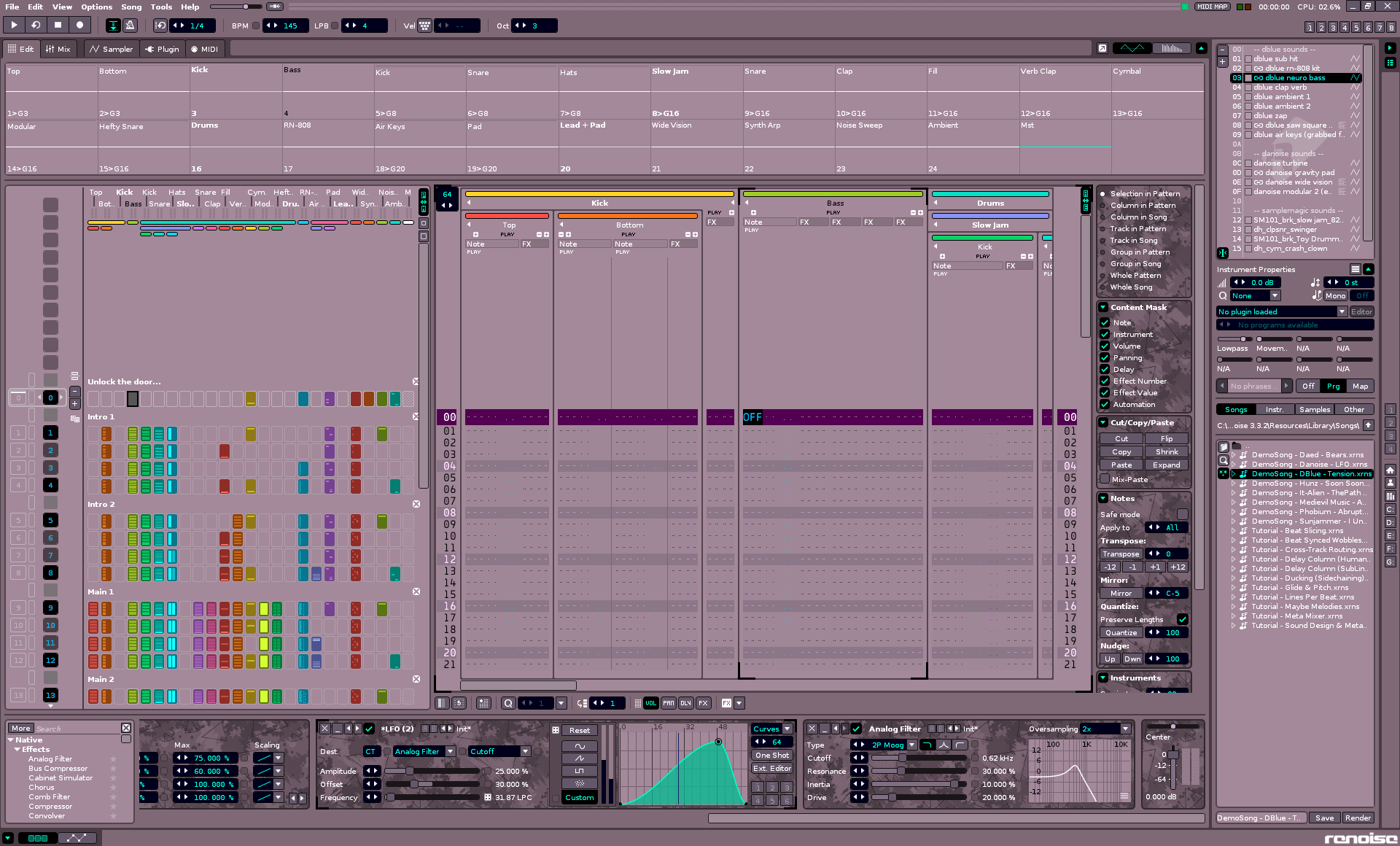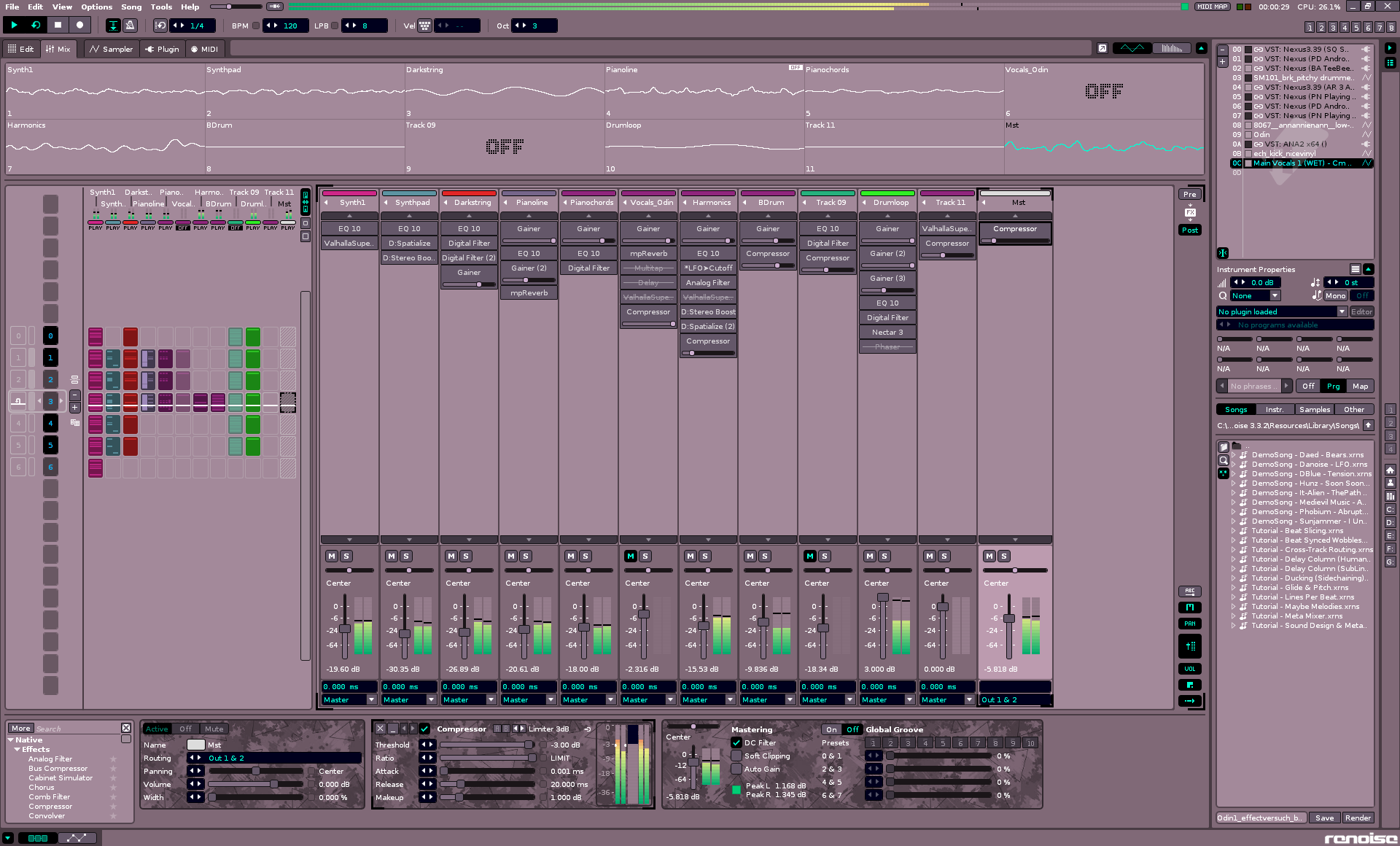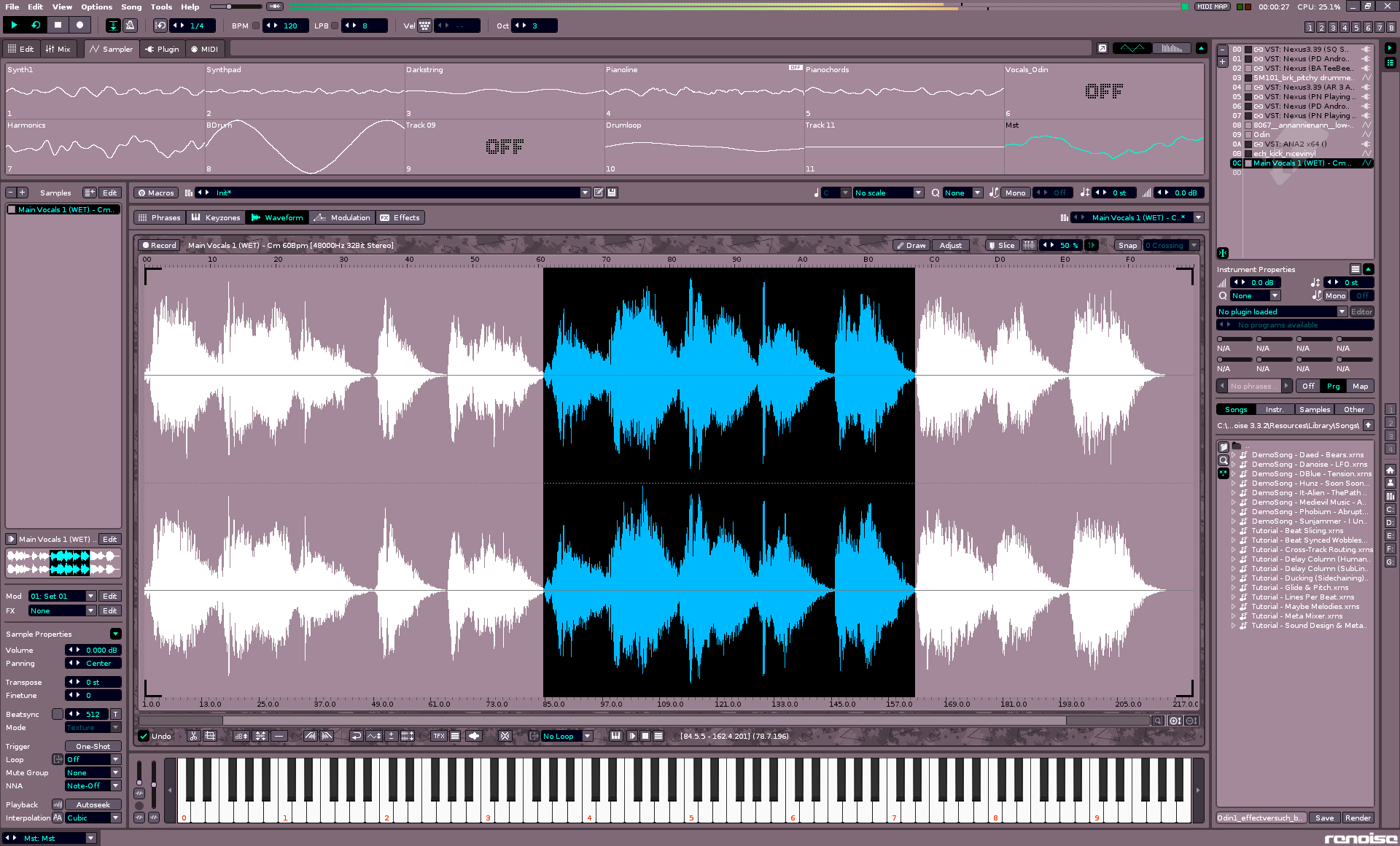 Some texture variants for "Titanium-gray" Colorsheme. (Can used on other Themes too) Try it out and enjoy!
https://workupload.com/file/Bjry7f3CfC2
happy tracking

Hi @NPC1 - could you please re-upload your Ableton and Autumntone Beauty themes, as well?
Thanks!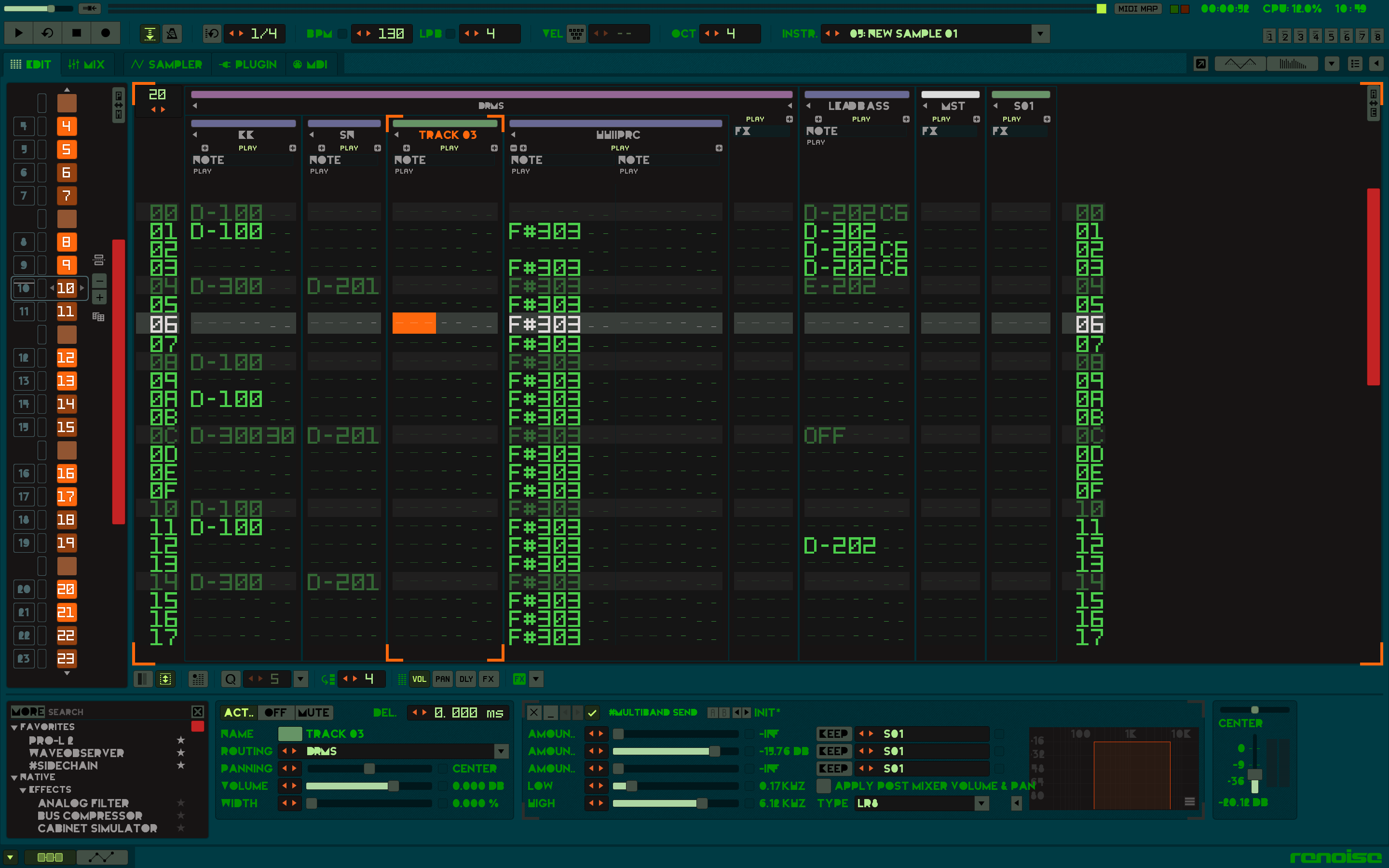 Love Amiga fonts
wow, how did you make it look like this
Hey!
I hope its helpful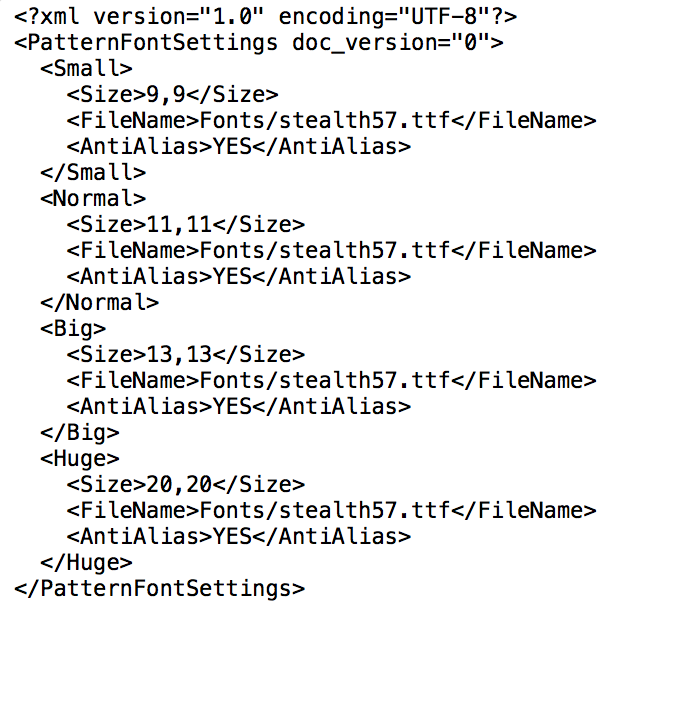 Hello together!
Here my Colorful-Beauty Theme! Very Colorful!

I try to preserve good contrast between all controls, but i must make some compromises because Renoise connected the Colorsettings for some different controls in unfavorably. So for Instance the Mainbackground/Mainfont, the selection backgrounds & textes, the buttons colors . So some colors or colorshadings are not my first choose. This maybe Cool & Tricky for year 2000 maybe, but we have 2021! RENOISE DEVS PLZ CHANGE THAT !!! Renoise could look so much better without this, and all what needs are some more Colorvalues in config. The EQ Background i fucking want not same Color as the Mainback!
So back on topic…
Theme creation & testing Time was 21 hours!
Important Notice!
In the Archive is the Fontconfig file and a Link to the Google font i used. Download the Fontfamily and copy it to your Skin/Fonts Directory. Then rename your original Fontconfig file or copy it to your backuplocation. Then copy the archive Fontconfig to your skinfolder. !Warning! → this change your global Renoise config!
Before I forget… This Theme was designed on a matte display. So if some Colorvalue Contrasts make exploding your eyes on you glare Display, you on your own. Using at own Risk!

Here some screenshots…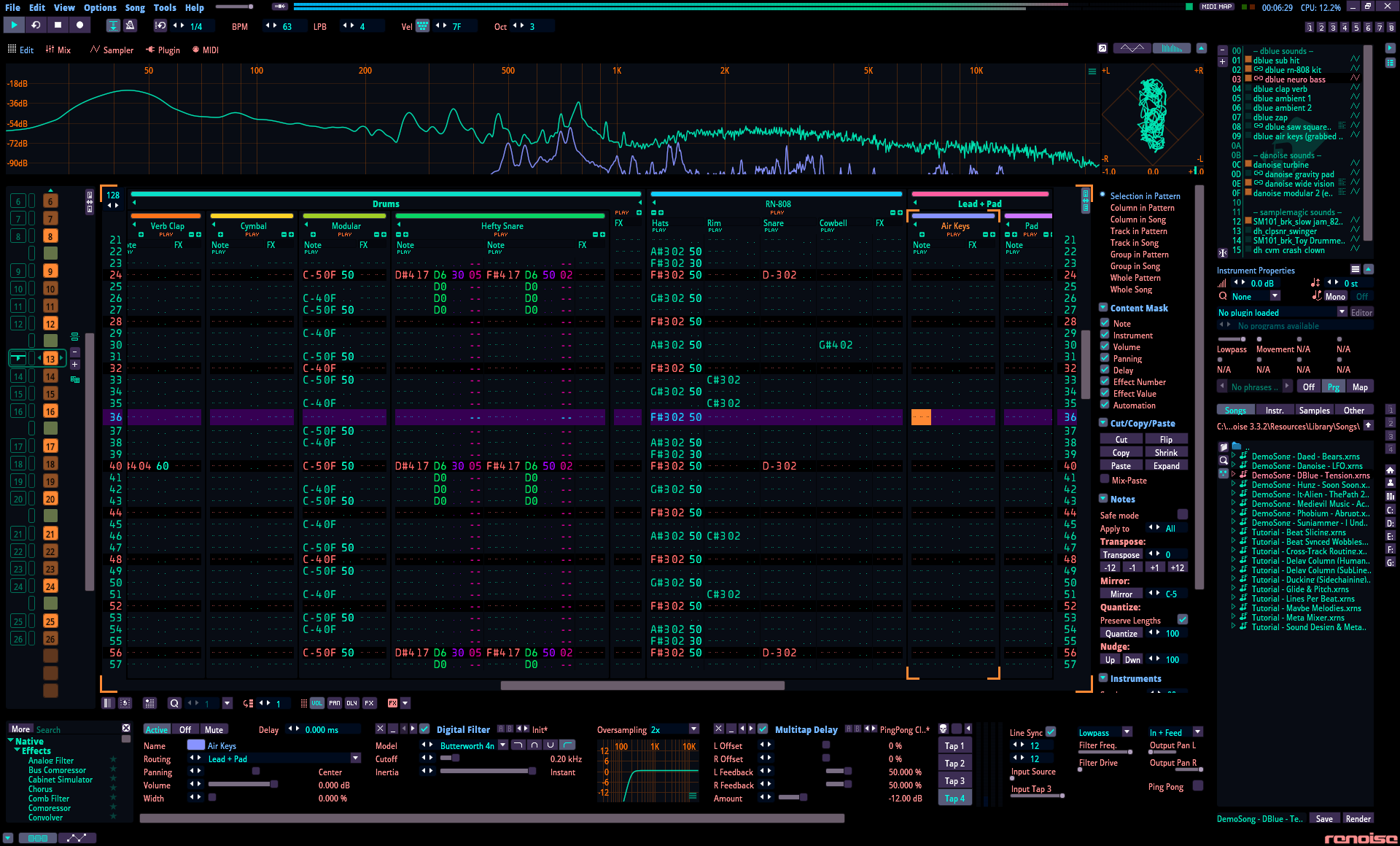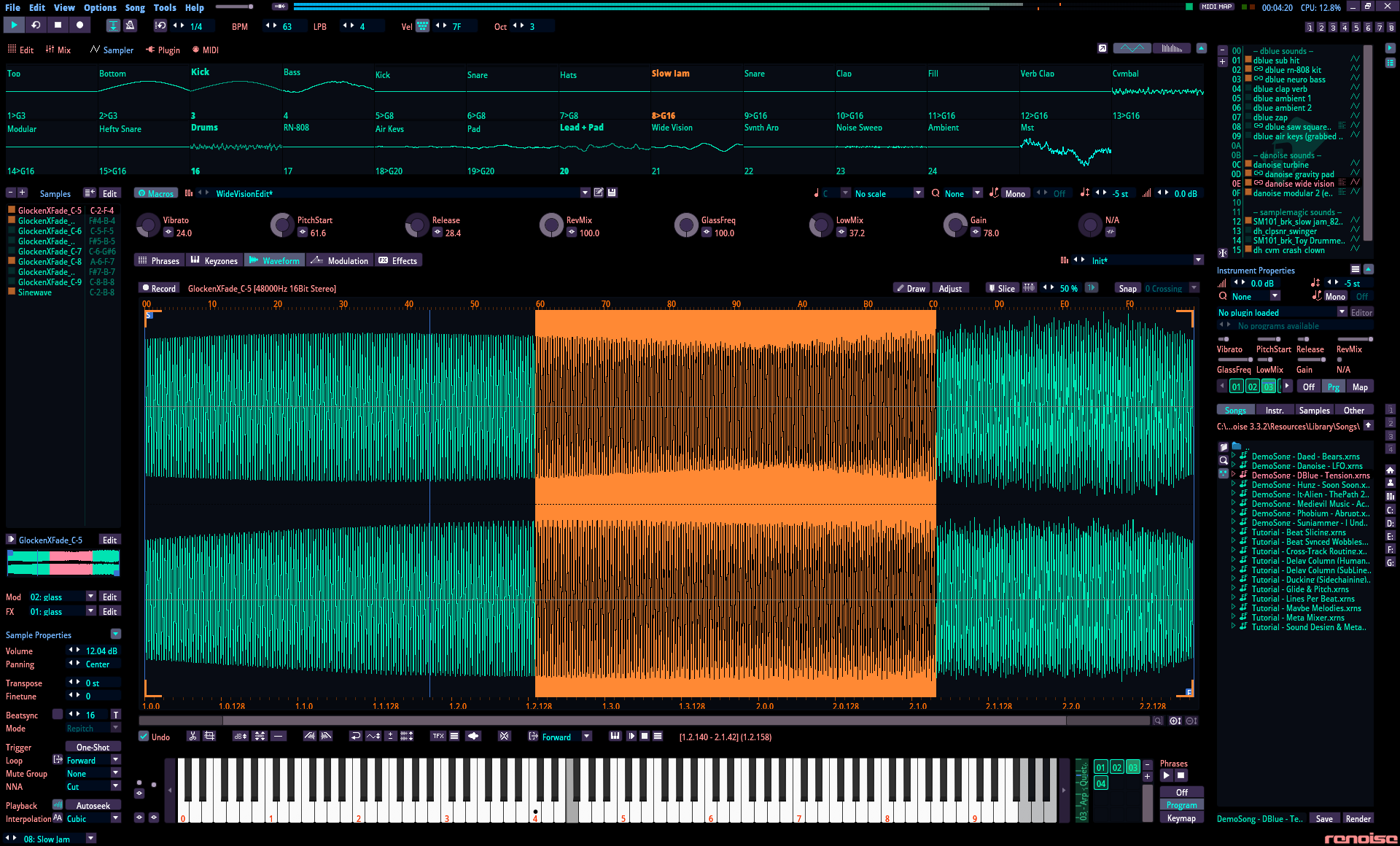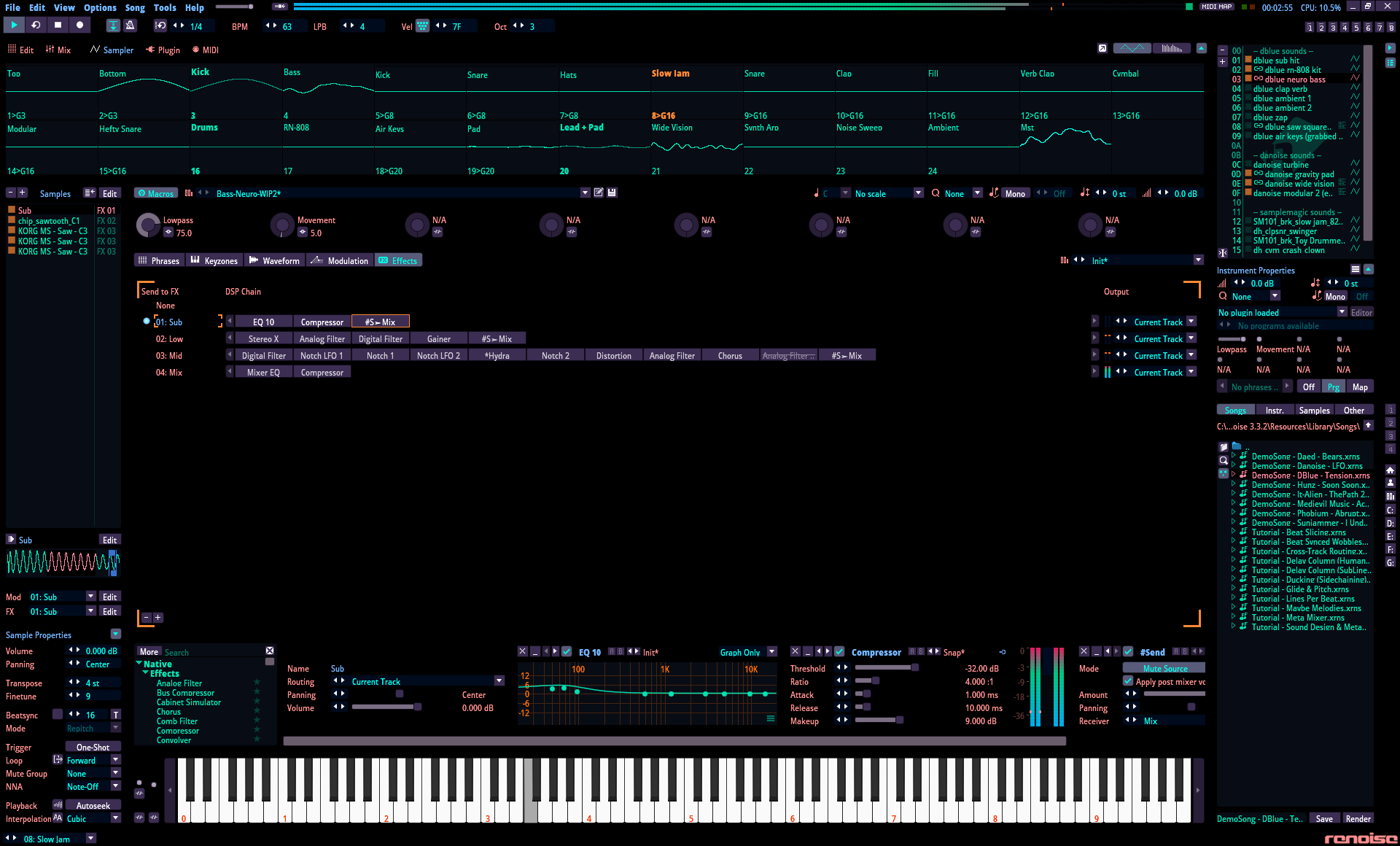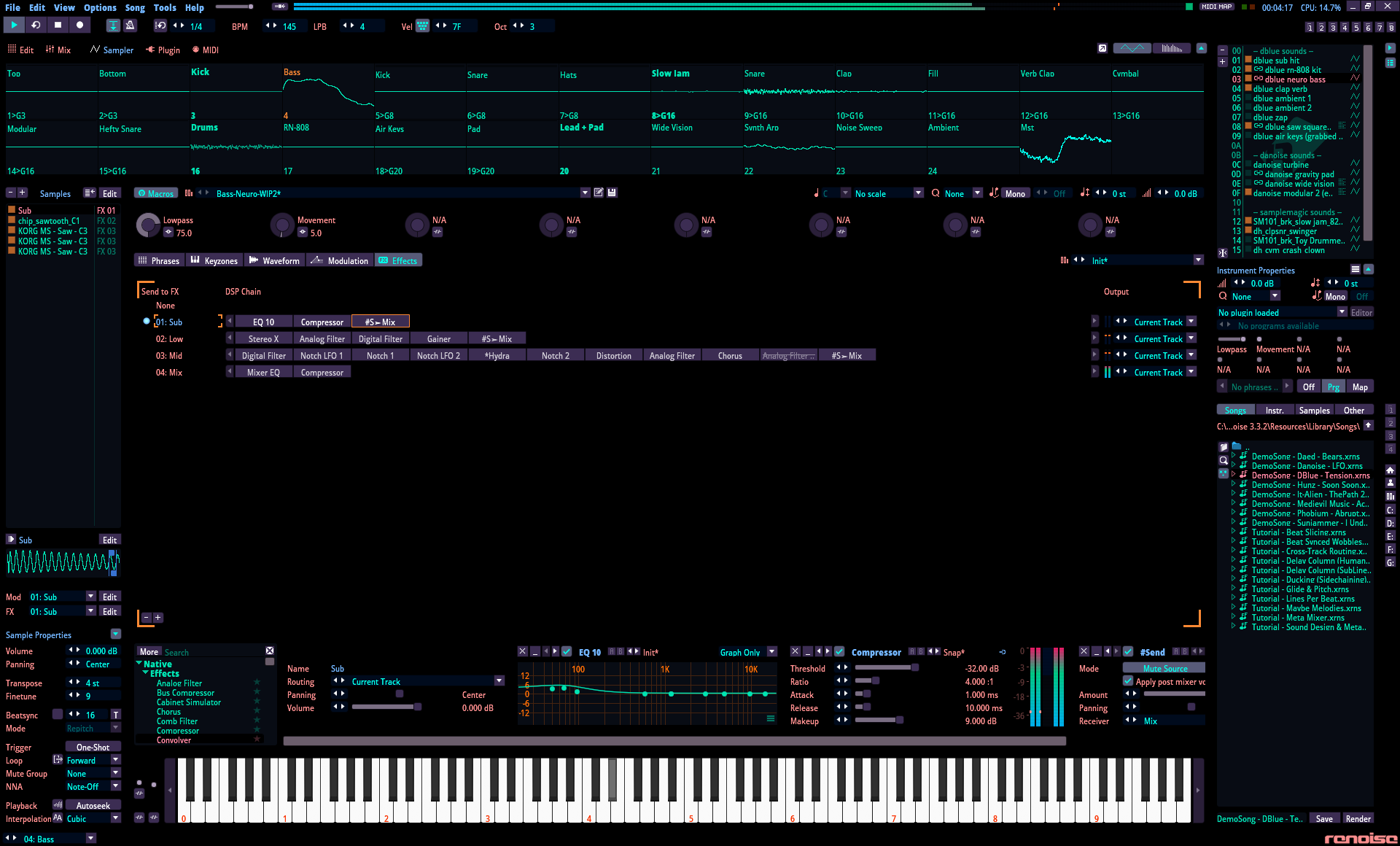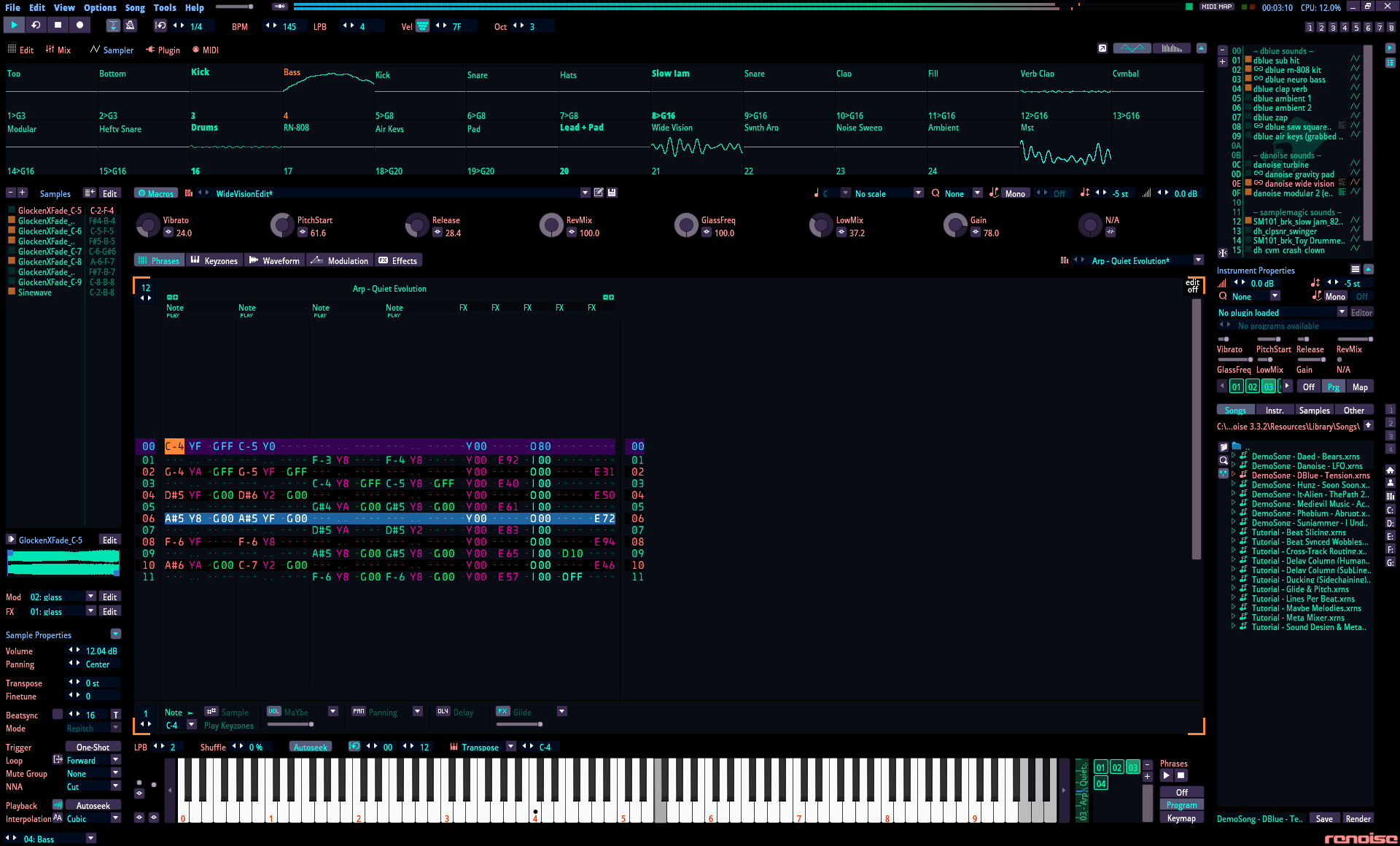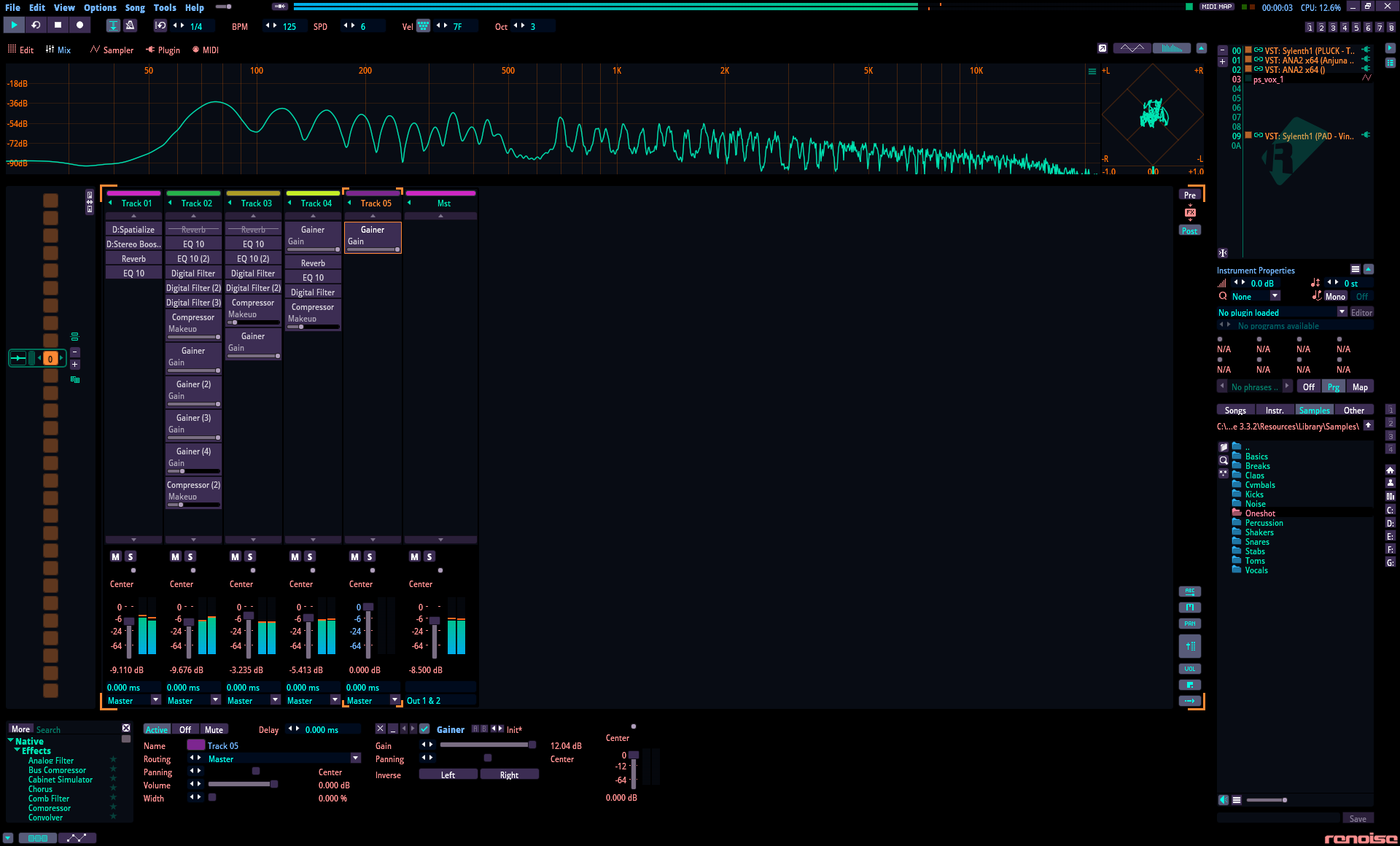 …and here is the shit…

Download: Colorful-Beauty Theme
…hope you enjoy.
happy tracking

This is incredible! Very nice work.
There should be an option to recolour the piano keys
Hello,
Here a smal Bugfix for my Colorful-Beauty Theme. The special VU-Meter's which used by some songs and in a few FX like Compressors or LFO's was black on black. i have fixed this to yellow color. You can tested it self with the Demosong "Hunz - Soon Soon" here a screen's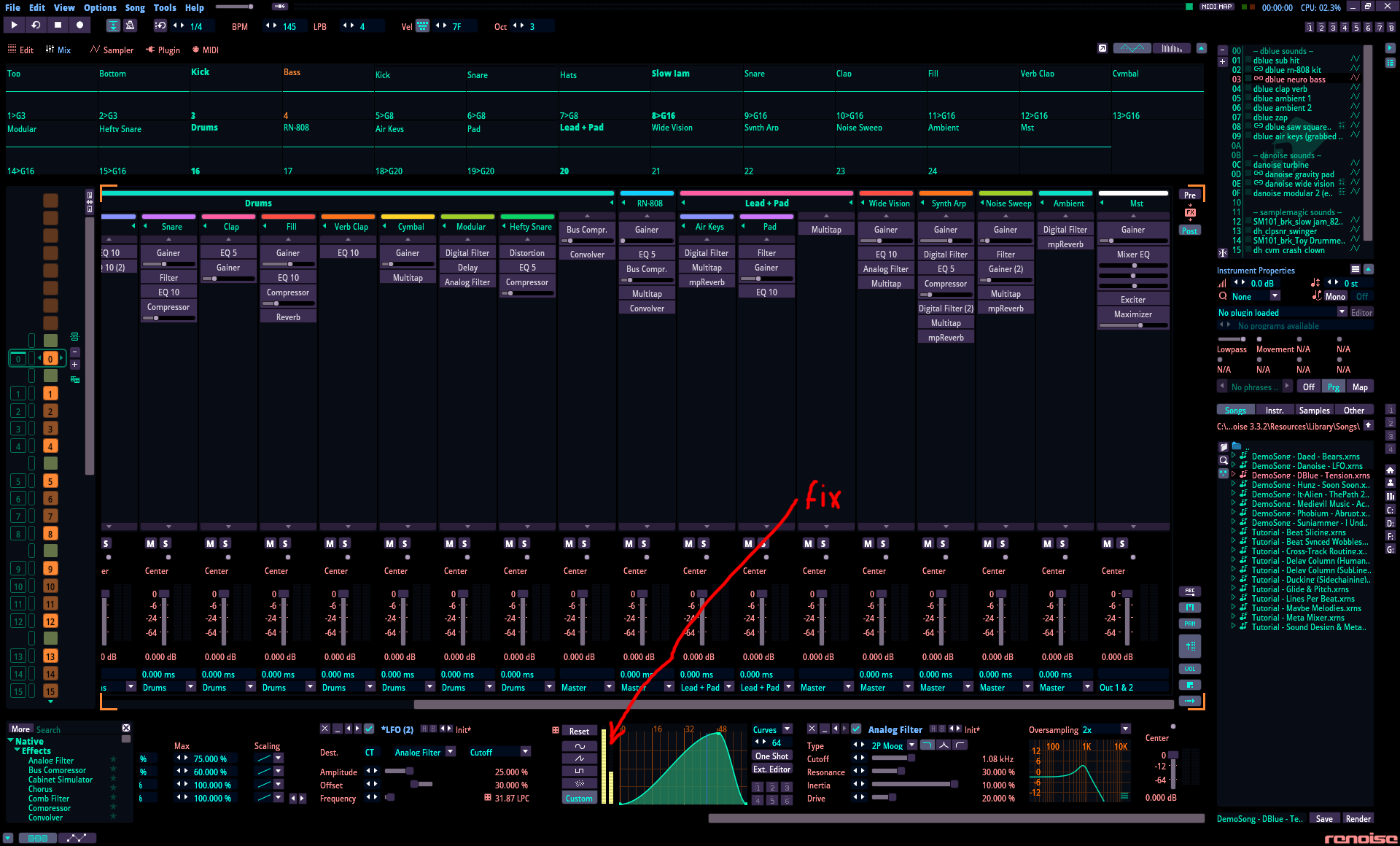 I found a weak in visibling the channel Mute/Solo state what is unfixable, because if i change this colorsetting the normal Buttons and the FX Tabs color change to. For a little more visibility you can lowering the brightness of the normal button colorshade in some limited range.
I found 2 Font Drawing Bugs in Renoise. One in Mst Mastering Channel options and one in LFO FX Addon. Here some screen's. I have marked the positions. For me it looks that the vertical Labelsize not fits the fontsize, so that some part of the Labeltext is cutted away. Maybe too, that the fontsize of configured font not really measured. It would be nice if some official could report this to dev team and we get fixed this in next Renoise version.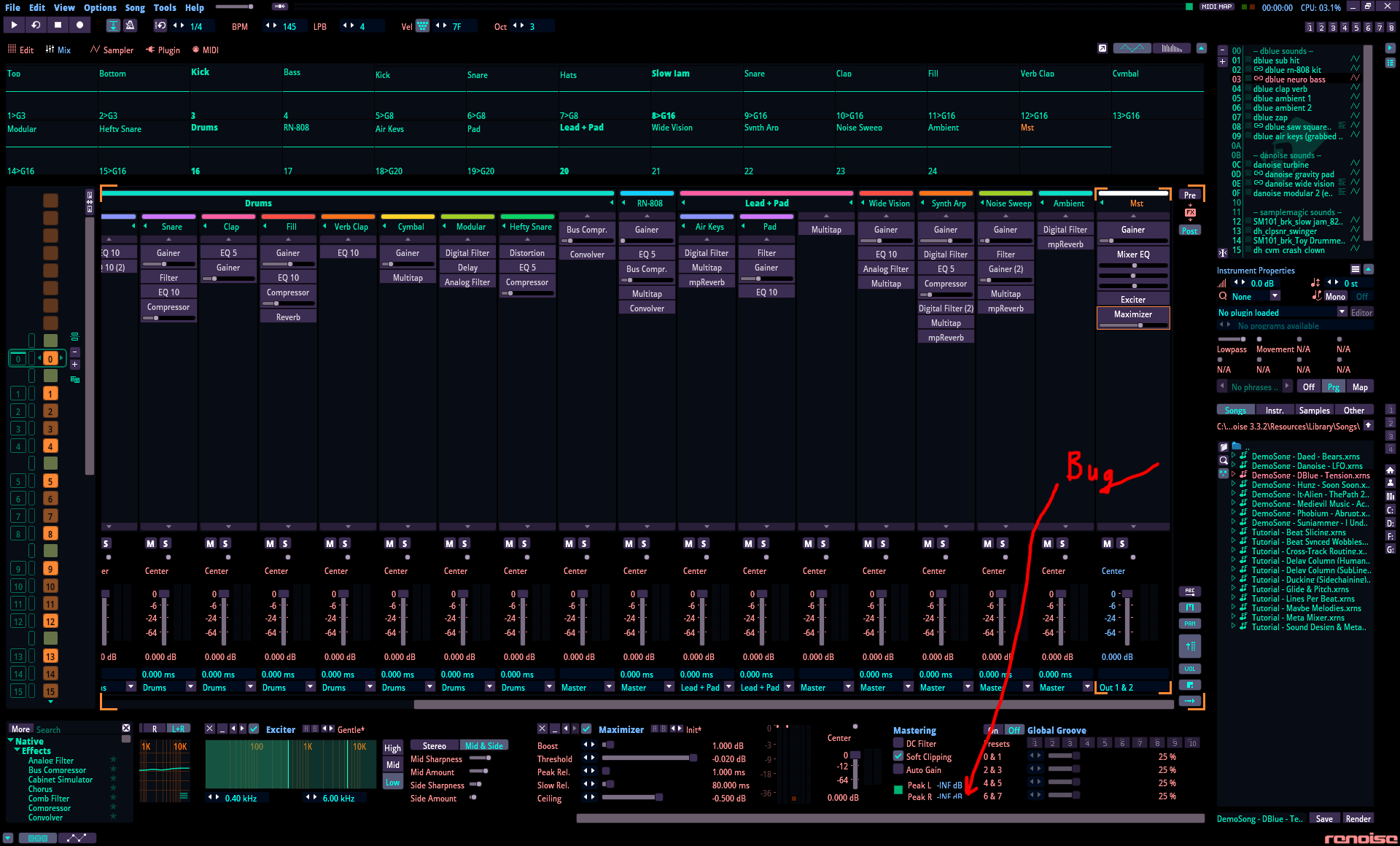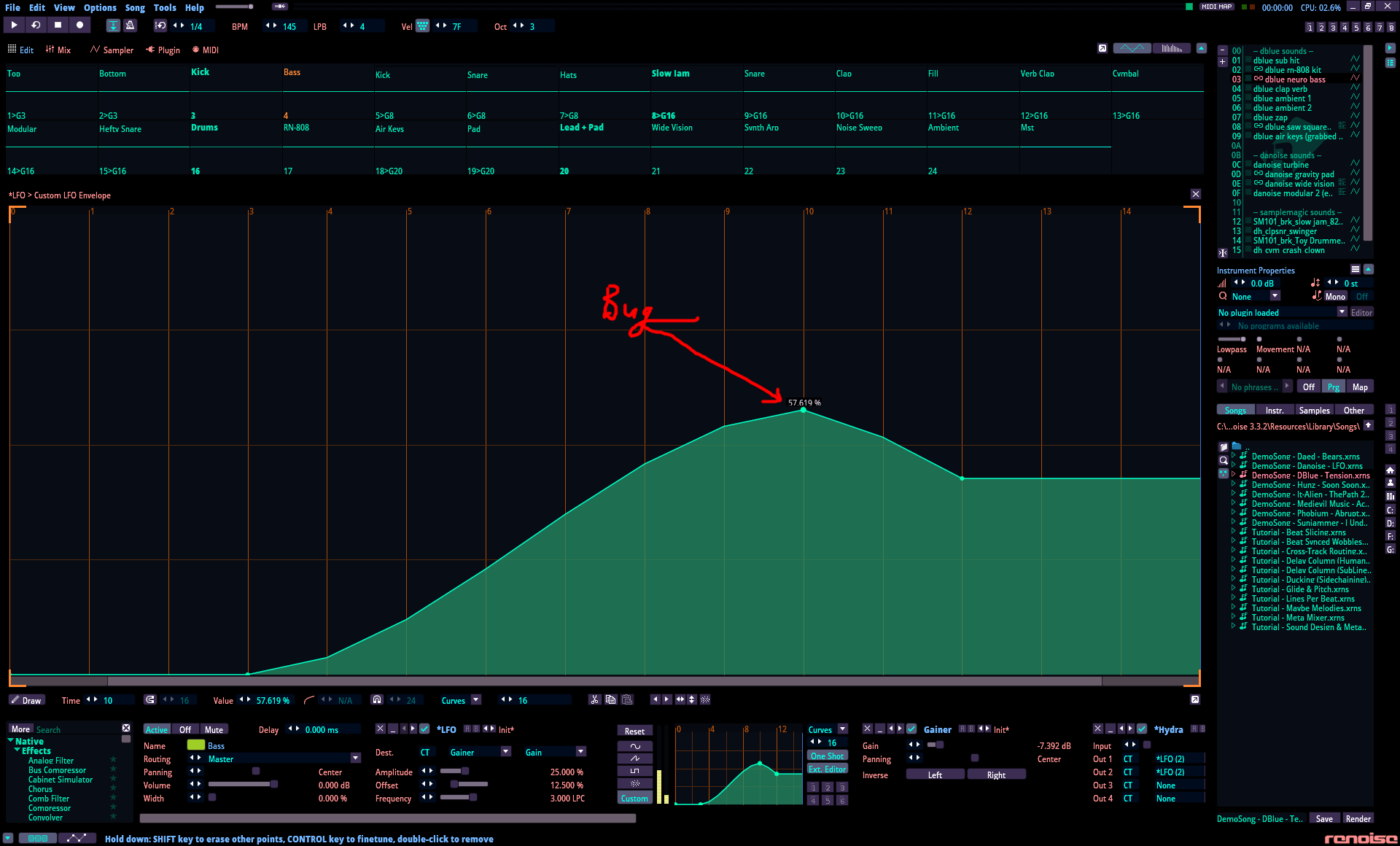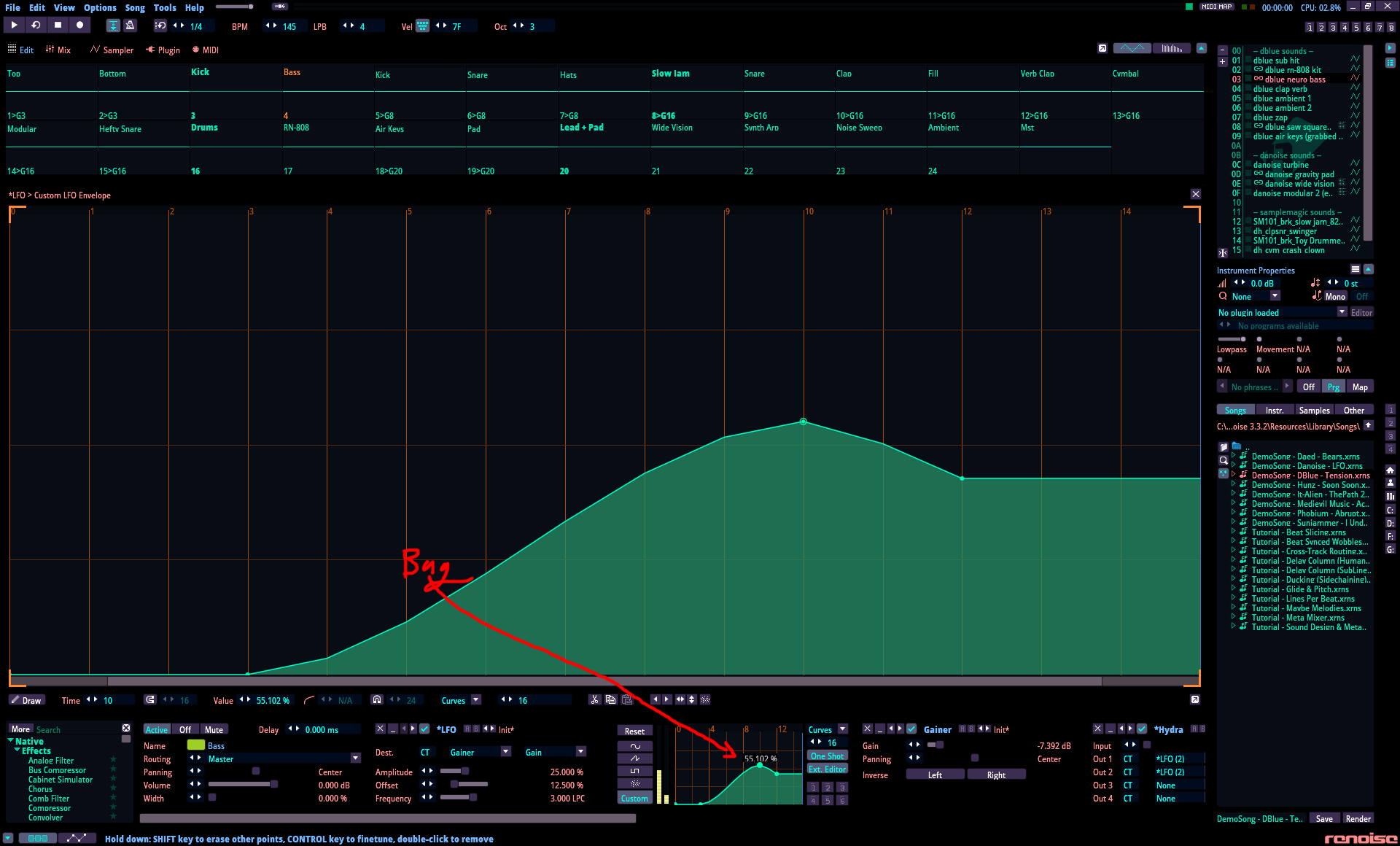 Colorful Final3 (black special meter fixed).xrnc (5.0 KB)
happy tracking

I made some modified Dark keys fits to Colorful-Beauty Theme. Copy the Content of the rar archive to skin\icons and restart Renoise. Thats it. Like the fontchange this mod is global.
pressed halfnotes are now neon-lightblue
pressed fullnotes are neon-orange
Download: Modified Keys for Colorful-Beauty Theme
Hope you will like it.
happy tracking

Ok guys…
fasten your seatbelts!

I proudly presents my "Renoise Theme (reinterpretet)" Theme. All in One ( inkl. Keysets, Textures, Cursors and Fonts)
Here some impressions…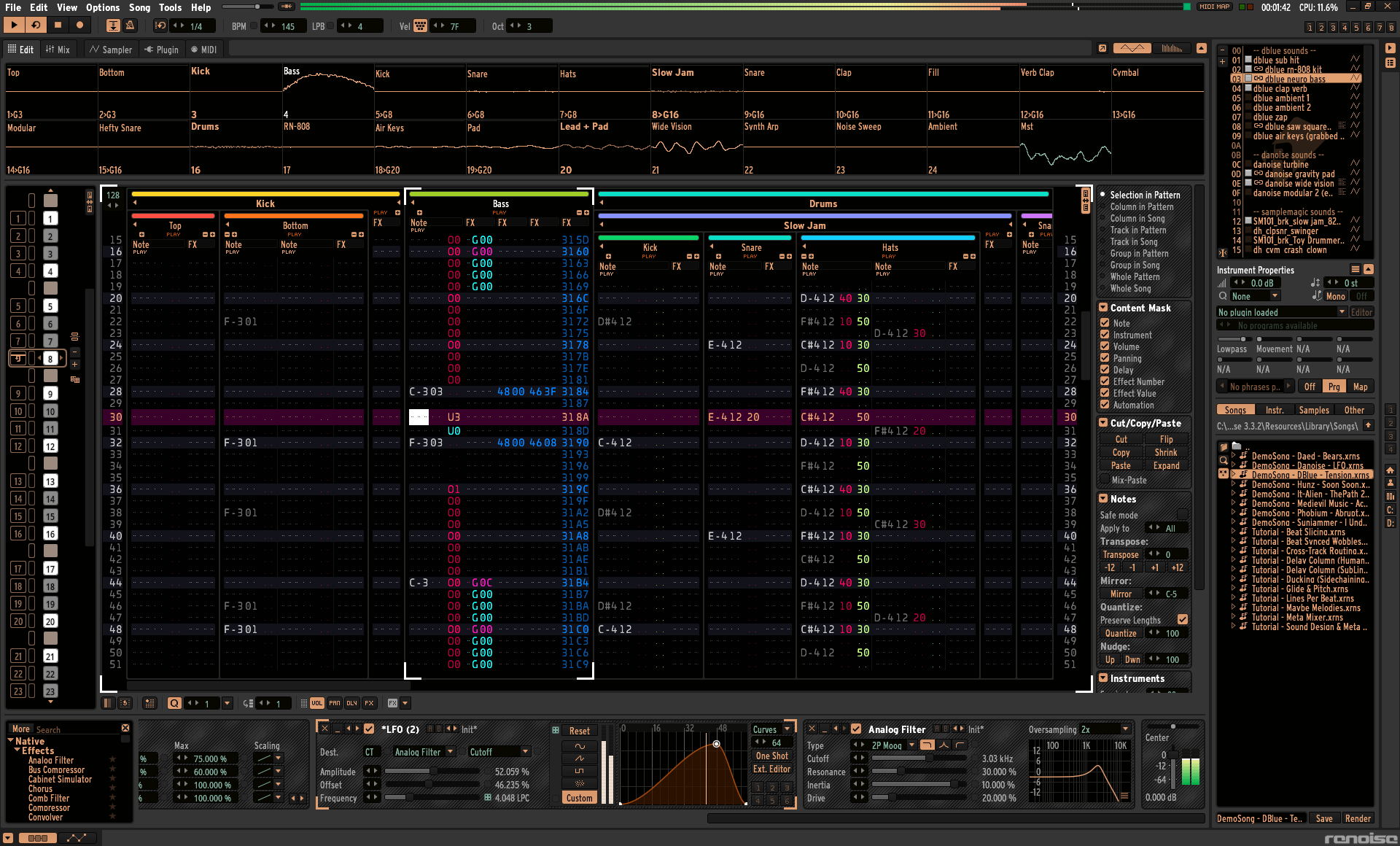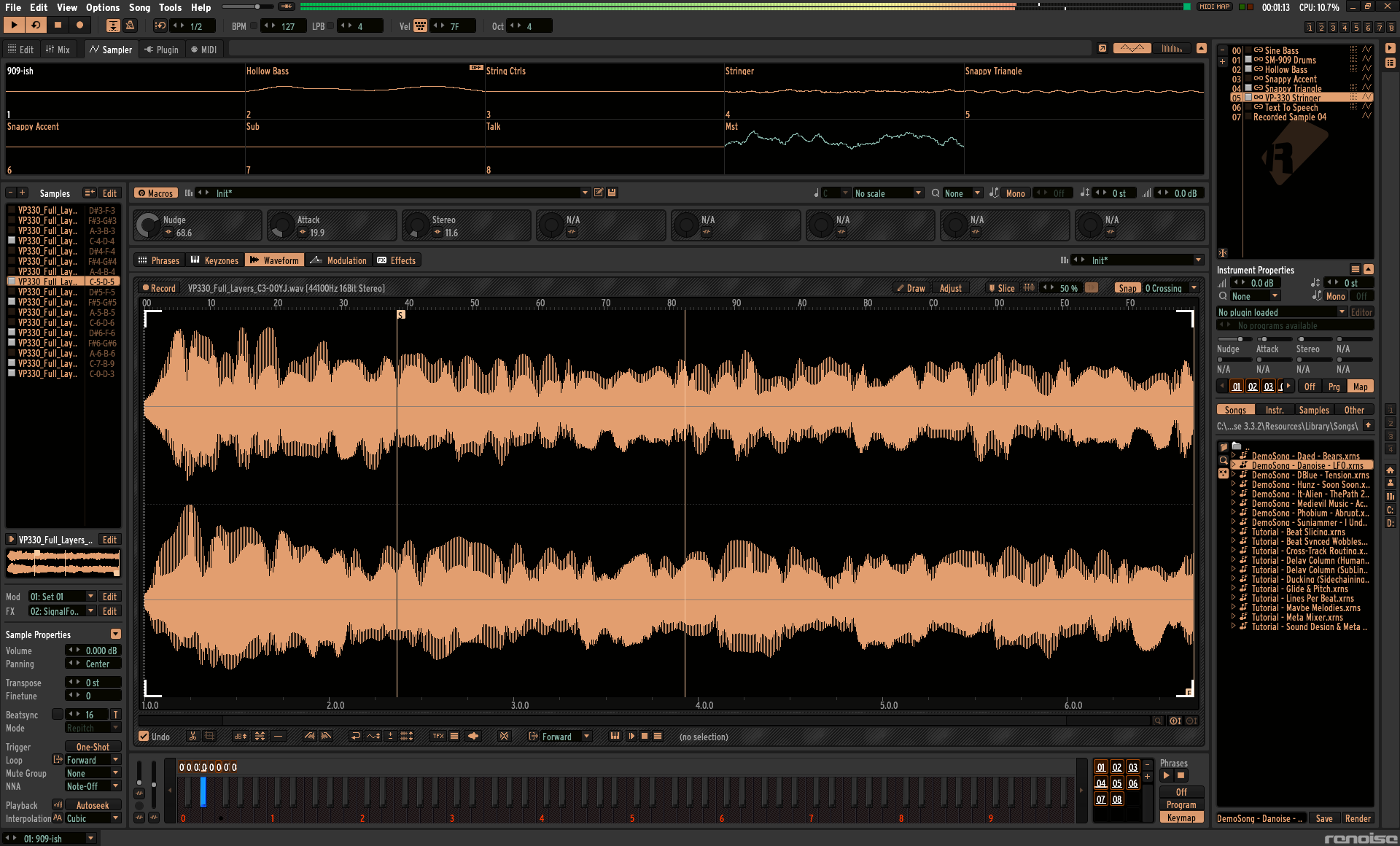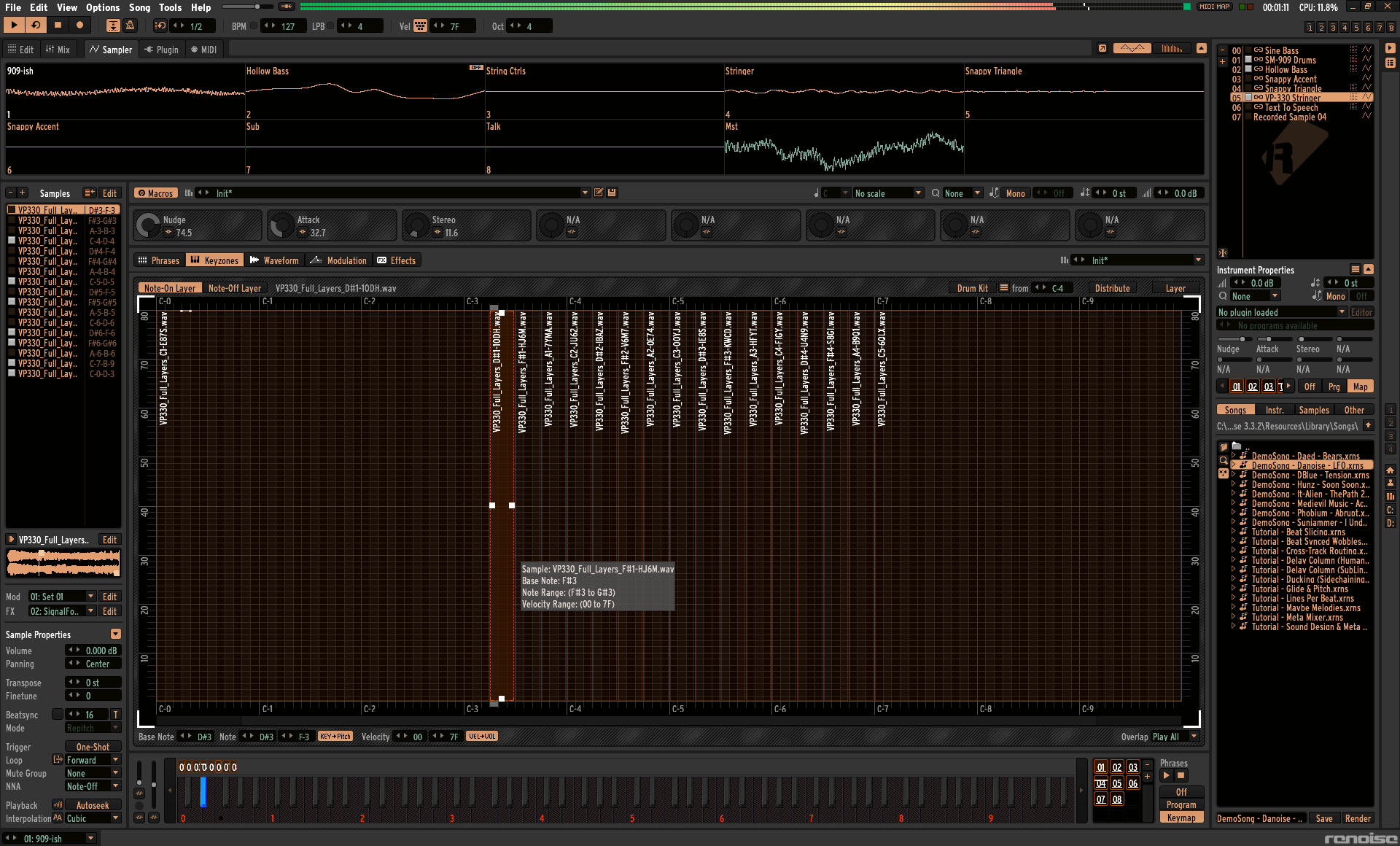 Download: Renoise Theme (reinterpreted)
Hope you enjoy it.
In next future i will upload a complete collection with all themes i created.
happy tacking

Love this one. Light themes are my favs. Just think the cursor is kinda hard to see, so I changed that
Any plans for a reupload it? I really want to try it!