Hello,
this tool represents each track as a clip. If you click on a clip, it will be played with the next start of the pattern. This is quite the basic idea like in Ableton Live

/>/>
This is mainly designed for live purposes and for remixing tracks of different patterns of your choice.
It is alpha and there may be many bugs, it would be nice if you report them.
new: The clip changes can be recorded now, so recording a complete new song while jamming is possible.
How To:
mandatory:

Add pattern 0 and 1 as first patterns in your song, clear them, and loop them (see screenshot).
Also make sure that "follow players position in pattern while playing" is enabled.
play the song (patterns 0 and 1 in an endless loop)
start Rableton Dive and play around:
press on a clip to play it, press on a playing clip to stop it.
the button on the right side will play all clips
change patterns with pattern drop down box
colors: green: playing; yellow-blinking: play next pattern; red-blinking: stop next pattern; black: empty track; darker: inactive
3581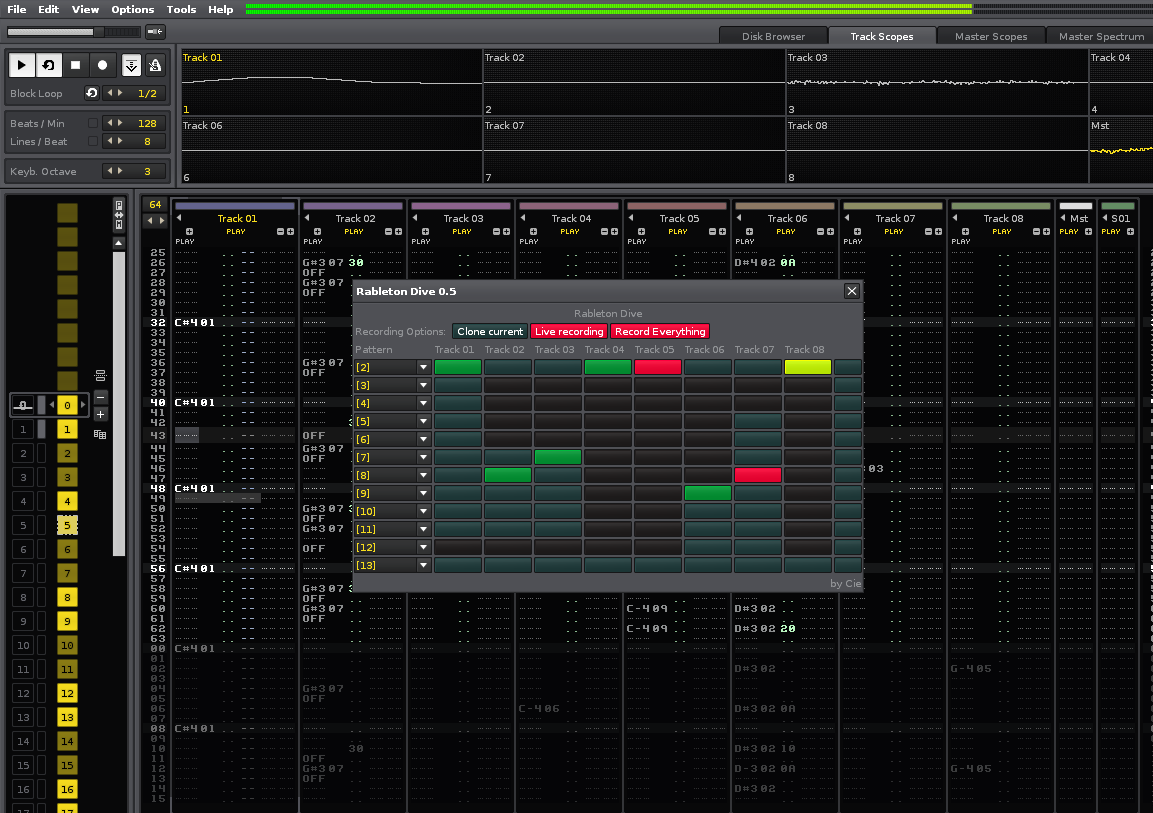 Version 0.5
added recording options (please deactivate "Keep sequence sorted" in the pattern-sequence options):
clone pattern: clones currently played pattern and adds it to the end of the song
live recording (switch on/off): everytime the currently played pattern is changed (user has hit a clip and clip is flashing), the pattern is cloned and appended at the end of the song
record everything (switch on/off): can be switched on only if live recording is activated. Records every played pattern regardless if there were some changes by the user. So a complete song can be recorded.
http://www.youtube.com/watch?v=H1hes2wCEUA
Edit: Tool has been renamed to Live Dive. Please read on in the new thread.