Hello Renoisers!
Here's a tool that makes it easier to create sequences for instrument envelopes using a pattern sequencer style interface. I find the existing instrument envelopes interface a bit fiddly to create sequences so I made this which puts the essential controls on one screen and lets you do extra stuff like note lengths.
4238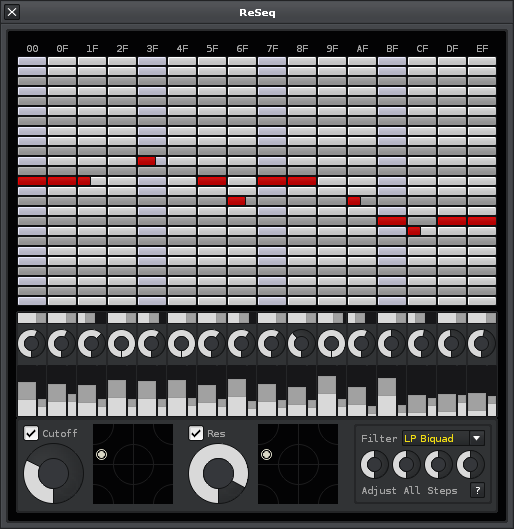 Usage
Use the piano roll to enter your notes. Underneath this are a set of sliders and dials.
Adjust the note lengths using the horizontal slider.
Adjust volume for each step using the dials.
Adjust filter cutoff using the fat vertical slider.
Adjust filter resonance using the thin vertical slider.
Filter envelope follower: Use the large dial to adust the intensity and the xypad to set attack and release settings. Horizontal axis controls attack and the vertical axis controls release for the envelop follower.
New - Adjust all steps: Use the four dials to change the levels of all steps for Note Length, Volume, Cutoff and Resonance.
See this video for a demo:
http://www.youtube.com/watch?v=lYO0mpKA-y0
It works on the currently selected instrument. Settings are saved with the instrument so you can close and open the tool at your leisure.
Go here for the download: http://www.renoise.com/tools/reseq
Cheers…