V0.55 Up on tools site:
http://www.renoise.com/node/783
A fairly simple tool which I have been learning some class based programming on.
It gives you a macro for the 4 sliders in the master-track groove control. Also a button to navigate to the master track and a checkbox to enable/disable groove.
The master slider controls all sliders to the same percentage so is used for traditional style swing and nothing more exotic.
Find it:
Tools Menu:
Ledger`s Scripts: Groove Control
or
Shortcut:
Tools: Groove Control
5942 ledger.scripts.GrooveControl_V0.55.xrnx
5439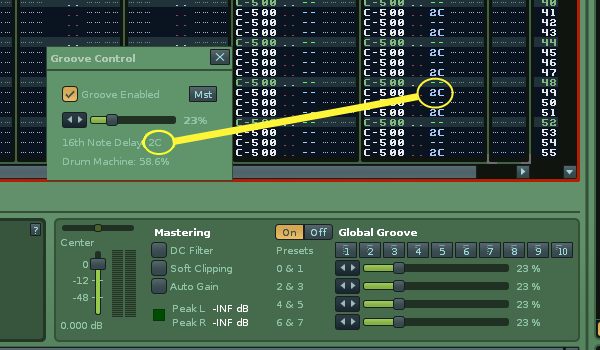 In the picture above, the yellow line illustrates what the 16th note delay readout means. A Groove/swing of 23% equating to a 2C delay value on every other 16th note (here, 4 lines per beat) .
The 2C`s in the pattern are just for illustration,this tool does not add any pattern data in use. The readout is just to give you a better idea of what the renoise percent value means.
–changelog:
–0.55 User setting for Lock keyboaard focus no longer effected by tool
–0.54
–Corrected Groove calculations after getting accurate confirmation of groove sliders range
–0.53
–Added "Drum Machine" readout that gives the equivalent percentage readout for machines like the Linn LM-1 (First ever groove implementation), and other DAWS
–0.52
–Now shows the equivalent note delay that is applied to every other 16th note (virtually in renoise), below the slider
new version 0.53

I`ve now added a further readout which gives the groove percentage as it would be shown on something like the Linn Drum LM-1. The significance of this is that at 66% you get "idealised swing" as in a Jazz shuffle, where the two 16th notes are played in the positions of one and three in a triplet i.e. [1 , x ,3] where x is silent. [0%,33%,66%] or 33% is silent:

16th hihats:

16th hihats with 66% swing added:

Mp3 updated due to tool accuracy improvment (v0.54): Renoise @50% Swing giving a rounded 66.5% triplet swing