It`s been a while but I've had another burst of scripting in time for the festive season!
This is my take on per-track-groove:
---
Download:
https://files.renoise.com/forum/uploads/7162-ledger.scripts.TrackGroove_V0.53.xrnx
---
---
Keyboard Shortcut:
Global:Tools :Track Groove
Tools Menu:
Tools:Ledger`s Scripts:Track Groove
---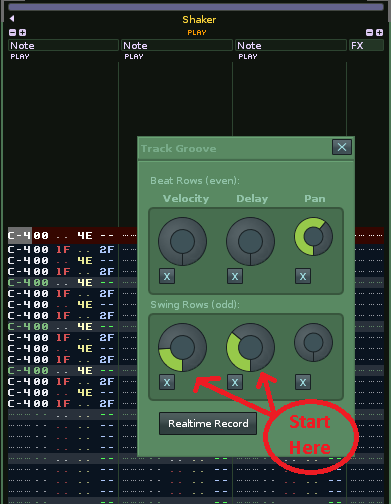 ---
The first 3 rotaries control lines 0,2,4,5,7…etc which I call the 'Beat Rows' And the second 3 control the even rows 1,3,5,7,9,… labelled 'Swing rows' - The tool assumes 4lpb as with global groove.

The [X] buttons clear the columns which the associated rotaries point to. They don`t clear the whole column but just the rows of the column that the particular rotary effects (odd or even).

The Realtime Record changes the mode of the tool so you can record varying values as you scroll down the track. You can get some nice modulation and humanisation of values this way.
---
The first thing to try to get a basic groove is: add your notes to the track first and play with the bottom two left rotaries (velocity and Delay) on something like some hihats or an arpeggiated bassline, then experiment from there.
---
Related Tool: Groove Control
---
My Other Scripts:
---
Changelog

v0.53

code tidy/ minor fixes_

menu added:_ Tools:Ledger`s Scripts : Track Groove