GuttRoll
a Pattern Editing Tool with the Guitar Player in mind
better velocity representation and 8 velocity steps (double)
6844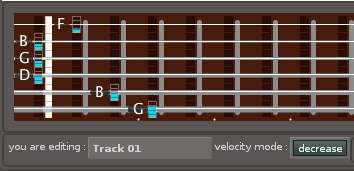 This new Version is much more responsive
6848 com.drezz.GuttRoll_V0.9.xrnx
no more new features for now.
i will only fix bugs from now on.
think its perty neat now.
enjoy!
new Feature: bidirectional velocity cicling:
6845

rep. clicking on the blue velocity squares can now increase or decrease the velocity level
new Feature: per string standard velocity levels - insta-humanizing:
6843

new Feature: alternative tunings:
6834

new Feature: tabview options, show defined tracks side by side with the current selected track:
write your melody while having your chords and bassline in sight!
6835

6836

GuttRoll
in it simplest form it shows a guitar fretboard that lets
you write notes to the pattern editor by clicking the strings
on the desired fret positions.
you can navigate the patterns and lines in the common way
and GuttRoll will pick up and display notes that you allready
have written
6847

the blue square next to the note names on the fretboard
let you cycle trough eight velocity levels for each note.
you can define the direction of cycling by clicking the
increase/decrease button below the fretboard.
6846

The add Note Offs option
when enabled, on each note/chord event all untouched strings get
muted ( "off" in Pattern Editor ).
when disabled, strings would ring until they get played again.
an individual note damp event that let you mute a string insted of
playing it is planed.
The Tab Sheet
you can click the tab diagramms to navigate within the pattern
the resolution is limited to 16 chord/note events per pattern
the pattern lengths need to be multiples of 16
the tab sheet may not work for impossible to grip chords
they work in the fretboard view but in the tab sheet some notes will
not get displayed. They remain in the pattern though.
bugfix:
-fixed tabs with open strings
-fixed on_velocity_click bug
-fixed group track , send track , master track bug
other;
added option to omit note offs
-alternative tunings
-new tab view option
-saver and faster