A new alpha for some testing:
I Can Haz Sequencer!
A slider based step sequencer for input of notes and pattern effects.


///
Shortcut: I Can Haz Sequencer!
---
0.28
DSP automation added:
ledger.scripts.ICanHazSequencer!_V0.28.xrnx (29.0 KB)
Changelog
small bugfix
Fixed problem in Grab mode where sliders that were not hilighted (not under selected red button) would not add the correct current target note.
---
v0.26
instrument numbers for the renoise selected instrument are now added to the pattern editor, when adding notes via the text boxes/ fields

New [R] button next to the target note popup (very top row). Simply resets the note to C-4

The order of the notes in the target note popup has been reversed so that high notes are at the top of the list as would be expected
---
-0.25
new X row below the sliders.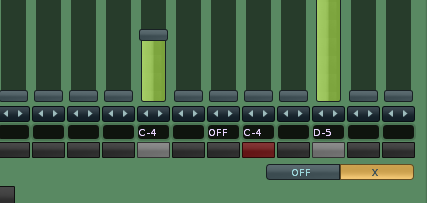 -When X row is chosen/ visible, the buttons will turn light grey when a slider is not at its default value, click on it to return the slider to its default. -When a note will be deleted from the pattern editor (Volume zero withNote + Volume` targeted) the button will appear red as a warning.
Note Textfields
-You can now type notes in to the note textfields (boxes) at any time. In previous versions there needed to be a note already present.
also:
-Type letter o to insert a note off
-Type letter x to delete the note completely
Fixed: Ranges for glide commands now cover the full and correct range
---
-0.23:
-fixed a bug where Grab mode go would go wrong and select Pitch as target if initialised on an fx column
v.0.22
QWERTY GRAB MODE
---
There is now a new Grab Note function [G] button on the top row. When pressed the [Note + Volume] mode is automatically chosen as the slider output. Edit mode is also disabled in renoise. Now you can your use QWERTY keyboard to choose/ audition notes as you would normally in renoise, the tool registers your last pressed note as the input note, so any new notes will have this value i.e. I press number 9 on qwerty and the default note becomes C#X (X changes depending on editstep).
In addition, when the [G] button is enabled a new row of Target Buttons appear below the transport buttons (the ones that go green in looping mode). You can press one of these and the chosen button goes red and shows the target note. The note/slider below is now selected so that when you play on the qwerty, this selected note changes pitch to note/s you play. To deselect again, simply re-press the red button or choose the next note you want to change. You can also select sliders with no notes yet present and just play the note into the new slider/slot with qwerty. so:
-Enable [G] button
-Click on Target button of the note you want to select
-hammer around on the qwerty until you find the right note
-move on to next note.
If you are not using the Target Buttons and wish to hide them, simply uncheck the checkbox next to the [G] button. You can still use the [G] button in basic mode. This checkbox state stays remembered by the tool preferences.
NOTE:
As this is quite a specific editing mode it will deactivate:
a] When you navigate away from [Note + Volume] selection.
b] When re-enabling pattern edit mode in renoise.
c] Changing track.
Also the tool must be focused in order for the qwerty key capturing to work.
---
OTHER 0.22 CHANGES:
Popups on the top target selection row have been replaced by target buttons for quicker access [Pitch] [note + Vol] [Volume] [Pan] [Delay]

NOTE OFFs are shown as blue as red has now been used to show that editing is armed in the Target Buttons row.
V0.21
-1) Fixed default note target (c-4 popup on very top row)
-2) LPB ,markers in the transport strip (buttons above sliders) now update as you update lpb in song
-3) On track change the pattern fx are now scanned so you can see what you already have in the fx popups. First found effect type is used/ shown
Here the fx track is assumed to be Tremolo and Vibrato is ignored:

Click to view contents

7774 ICanHazSequencer! 0.2.PNG
Older:

7835 ledger.scripts.ICanHazSequencer!_V0.26.xrnx

7831 ledger.scripts.ICanHazSequencer!_V0.25.xrnx
7794 ledger.scripts.ICanHazSequencer!_V0.23.xrnx
7790 ledger.scripts.ICanHazSequencer!_V0.22.xrnx