New Alpha: Drum Layers
ledger.scripts.DrumLayers_V0.55.xrnx
If on Mac/ Windows and you have DMG Track Control installed, extra buttons will appear to initalise/ toggle instances of the plug for delay nudging and some other useful functions. The plug is free, but you will need a DMG audio account to authorise it.
Drum Layers
Designed to take drudgery out of layering drums or other samples.
Keyboard Shortcut: Drum Layers
Best place to start is with an empty instrument slot. Press Wav button on the leftmost slot and drag a sample into the sampler. You can now tweak with the other controls and navigate around the sampler. Repeat for slots 2 and 3.
Also:
Each sample layer has its own modulation and fx lanes pre-routed
You can Solo and Mute each layer. The tool uses specially named gainers in the fx lanes to do this.
Should be fairly self explanatory if you are familiar with the sampler functions.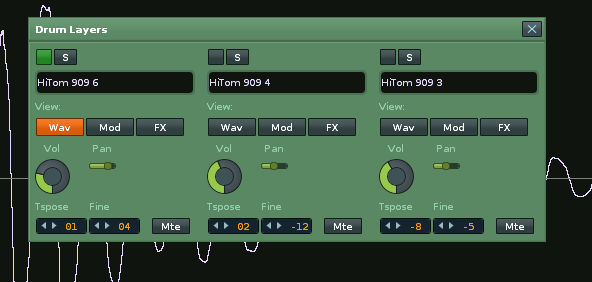 changelog:

-v 0.56
Removed a print in the timer
You can now rename samples from the tools textfields

-v 0.55
finetune height

-v 0.54
Updated the Initalise dialog to show the selected instrument in renoise.

-v0.53
If you have Track Control installed (Mac/Windows) a new button will appear on each Layer named [TC]. This will automatically add/ open/close an instance of Track Control so you can adjust the relative delay of sample layers to each other, aswell as quick access to a lot of other handy features in one place:

-v0.52
Now double-clicking controls volume and panning controls will set then to the correct defaults (along with right-clicking tuning value boxes which moves those by 12 semitones and 10 cents respectively)
---