Duplex XYPad (v0.98)
Download: [Duplex 0.98](/topic/27886-duplex-beta-versions/page view findpost p 218954) (including XYPad)
Duplex comes with XYPad pre-installed for a number of devices
7354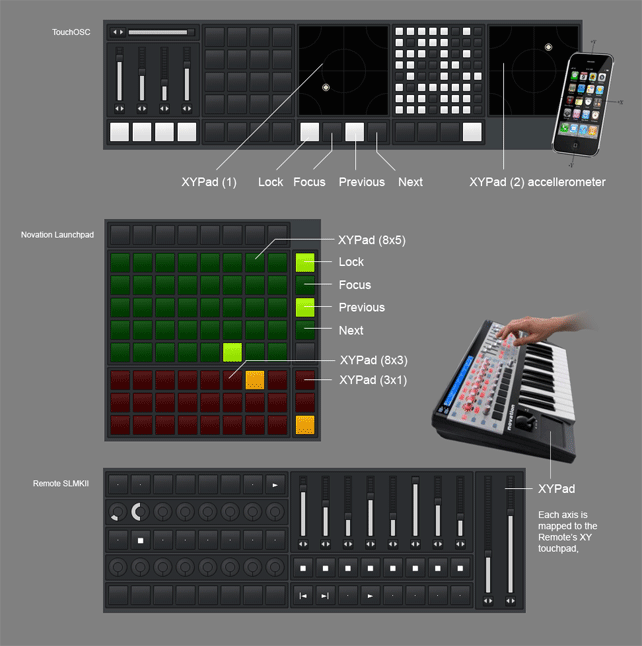 About XYPad
The XYPad application is designed to take over/auto-map any XYPad device in any
Renoise DSP Chain. You can control and record movement on the X/Y axis via
knobs, a MIDI keyboard's touchpad or an OSC device's accelerometer
Example song, how to get started
I've prepared a demonstration song that show how the XYPad application can be
used for controlling the Repeater device from a Launchpad controller.
Download example song (Renoise .xrns, 5.14 MB):
7357 Duplex XYPad+Repeater.xrns
The large green grid act as a repeater, and a crossfader between repeated and original sound
The smaller red grid act as a "pure" repeater, controlling division and mode
The three red buttons in the lower right corner are mode switches (basically, to get an OFF)
Detailed instructions:
[Install this tool](/index.php?/topic/27886-duplex-beta-versions/page view findpost p 218954)
Go to Tools menu > Duplex > Launchpad > XYPad
In the Duplex Browser, click options
Set all XYPad applications to "locked"
Load the song, and have fun!!