Recently, with the new version, the name was changed from Harmoniks to Harmonio.
Now version 03 on Gumroad.
Upon request, added the possibility to generate harmonies and phases not only by morphing, but also randomly by entering a range of values.
It's a magic checkbox next to setting values for morphing. (I'm running out of space in the GUI)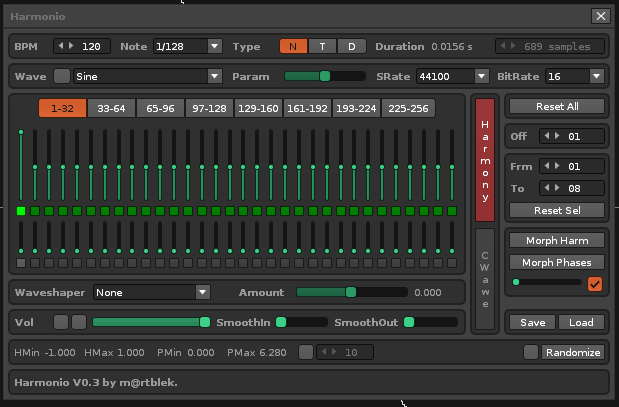 Hello,
Quick version.
It's just an experiment where I wanted to test how to compose harmonic waves.
I just thought of trying phase distortion and so there's a simple version.
Please note that it's just a teaching aid for me.
No optimization.Random errors.
Old Version (Has no sequel)
cz.martblek.Harmoniks.xrnx (4.0 KB)
Buffer len settings (octave)
Simple waveforms selector
Resets all 256 harmonies
Transforms the created sample into a full-fledged wave to which more and more harmonic components can
be applied
Toggle phase distortion
Phase distortion parameters [x1, y1, x2 and freq]
Just selector for harmonies
Harmonies sliders
Resets actual harmony to zero