EDIT: Updated so there is no text field just a text display.
http://tools.renoise…ls/setmetavalue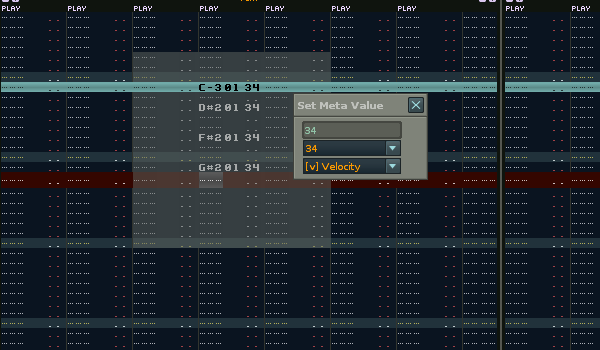 ---
New 2.7 Alpha to set all the vol/pan/delay values in the selected range in the pattern.
This script works in a similar way to my search track (02) tool.
i.e. it is supposed to be fully keyboard operated. The GUI is just there for feedback. Even though it can be interacted with you may not get the desired results by doing so.

Usage example:
Make a selection containing notes in the pattern editor
Open script via assigned shortcut
Type in the value (2 digit hex) you want to set all notes volume to

(the popup below the textfield updates

)
Press return, GUI autocloses and all done.
Attachment 2430 not found.
To choose between vol pan delay
Vol - press V on keyboard
Pan - press P on keyboard
Delay - press L on keyboard ( d not possible due to being a hex digit)
Renoise Shortcut Name: "Set Meta Values" under Global tools
The default is "clear selection" so all values will be deleted in the chosen range if tool is opened then return pressed.