Hi guys, I'm a brand new forum member!
My quest to find the perfect DAW finally led me here to Renoise. I love it, and think I'll be using it for many years!
I grew up using trackers (Octamed, Pro Tracker) and have always preferred the Tracker style of interface to modern-style DAWs. I love the control, power, and precision a tracker offers - all the note information visible as code, quickly editable with keys!

However, as we know, modern-style DAWs do have a couple of advantages over trackers:
"Piano roll" lets you see the general shape of your melodies
Track waveforms let you see what each track is doing at any given moment
As a graphic designer with a passion for interface design, I'd like to present my own solution to this problem - how I wish Renoise looked.
I know people have discussed solutions in the past (eg here) but I haven't seen anything quite like my idea:
7344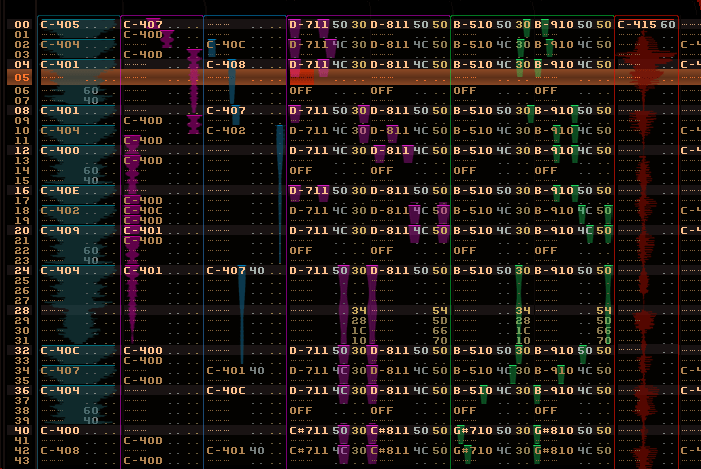 Features of my design:
I've never liked horizontal piano rolls; my piano roll is vertical, with notes arranged left to right like a keyboard.
There's no piano keyboard image. I don't need one, I only need to see the shape of the melodies
Notes are entered with keys, same as always. I hate the idea of using the mouse to "draw" notes.
Each melody range (from lowest to highest note) automatically stretches to fill the column width
That means if a track only has samples in one pitch (eg vocals, kick drum) it fills the entire width, which is what you want
Each note is a mono waveform, with a solid line at the top to clearly indicate the start of each new sample
Unlike other piano rolls I've seen, the width of each note slightly overlaps the adjacent notes, making better use of the space
Another feature of my idea is that multiple tracks can be "grouped" (see tracks 4-5 and 6-7 above). This combines all their notes together in the same space, ideal for chords
Note that this is only a rough sketch. I would gladly develop the design further if anyone was interested. (I have a few other ideas but don't want to get ahead of myself.)
Also note the basic skin used here is not mine, it's based on some random screenshot I downloaded. (Funny thing is, I haven't even downloaded Renoise yet, I'm far too busy redesigning the interface!) LOL