Noodletrap - realtime recording of PC/MIDI Keyboard (notes only)
5312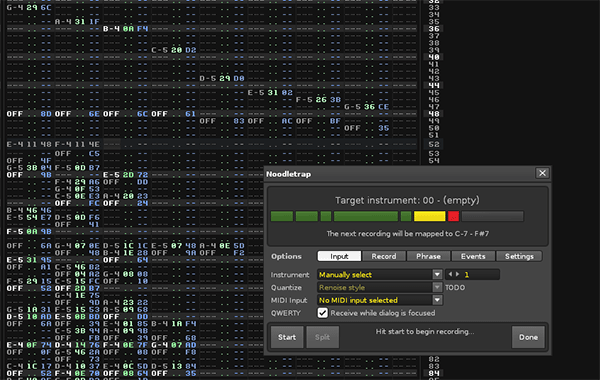 Looks familiar? I modelled it after the existing sample recording dialog in Renoise B)
What you see in the middle are current phrases in the instrument:
Green = Not selected
Yellow = Selected
Red = The "virtual" phrase (where the next recording will appear)
Main features
Record notes from MIDI/PC keyboard at any LPB (lines-per-beat) value

Recordings are stored as phrases in the instrument

Bypass edit mode: your keyboard noodlings can be recorded even when playback is paused

Many recording options, ability to split recordings into "takes", etc.

MIDI assignable interface
Keyboard shortcuts (when the dialog is focused)
[Left/Right] Push the arrow keys to select the current phrase
[Delete] Remove the current phrase from the instrument
[Enter] When not recording: prepare for input ("record-arm"). While recording: finalize recording ("stop")
[Esc]While recording: cancel recording, else toggle edit mode
[Tab]Will take you back and forth between the phrase editor and your "current working space"
(it will try to memorize whatever middle frame you have currently selected, and restore that)
Requirements
Renoise 3.0.1 has an important bugfix in the lua coroutine.
This version is required for Noodletrap to work properly
Download