Now Up on Tools Page:
http://www.renoise.c…-notes-in-group
This is a tool to make doubling/tripling… tracks in your song a lot easier.
for changes see end of post and new screenshots.
---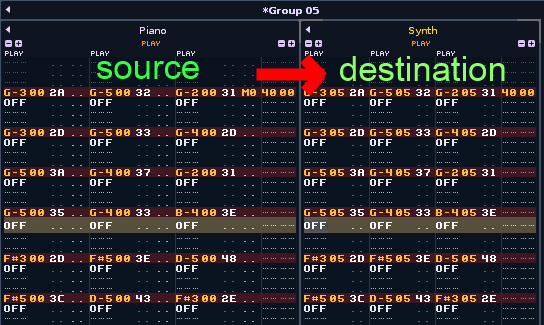 multiple tracks with different instruments, same notes all kept in sync

How to Use:
-MANUALLY:
If you want to sync all the notes in a grouped track, simply choose one of the tracks in the group. Now choose "Sync All Notes In Group" from the tool menu under "Ledger`s Scripts" . Tracks will be synced left to right.
There is also an assignable keyboard shortcut with the same name.
-AUTOMATICALLY:
From the tool menu under "Ledger`s Scripts" enable the option

"Auto Sync all notes in (*) Groups Enabled"

choose the track you want to double, go to the instrument list and choose the new target instrument you want on that track. Right-click to get the

instrument list menu

it and choose the

"Create Synced Track"

option.
A new track will be added to the right of the original track. Both of these tracks will be added to a new group with a name like *Group2. If you want to bypass a group you can delete the star manually. A star can also be added to any other groups you already have to make them automatically sync, left to right.
–ALTERNATIVE UNDO
As this is a realtime tool writing to the pattern editor, there is some unwanted native undo behaviour, unfortunately. To cope with this I have added a new undo shortcut that can be mapped to ctrl z that should not have these problems:
"Sync All Notes, Alternative Undo"
–COLLAPSE SYNCED TRACKS
To help keep things tidy there is a menu entry for "Collapse All Synced Tracks". This will collapse the destination tracks in * groups but not the source tracks in your song. Keyboard shortcut under the same name available.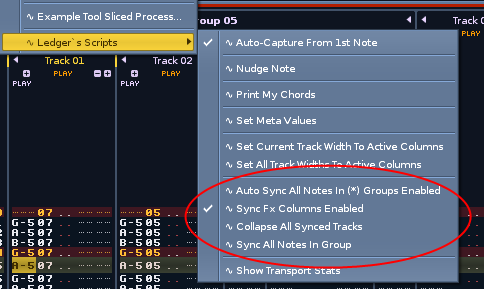 As of v1.1 a lot of menu entries have been moved to the tools menu under Ledger`s scripts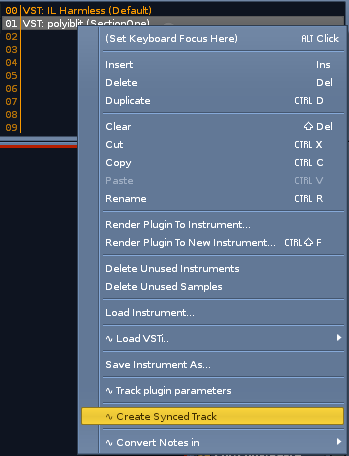 The "Create synced track" entry is still in the instrument list menu:
changelog

---

changelog

v1.1
-Moved the pattern menu options to the tools menu, under 'Ledger`s scripts' for tidyness.
-Added "Collapse All Synced Tracks" menu entry
-Added "Sync Fx Columns Enabled" – if you disable this fx columns are no longer synced, the syncing will be slower however.
1.09
–Fixed bug where two group tracks were added instead on intended one on "create synced track"
1.08
– Added a shortcut for "Collapse All Synced Tracks"
This collapses all the destination tracks in groups marked with a "*". The source track is left in it`s current state expanded/collapsed
–Now the destination tracks will mirror the same Vol/Pan/Delay - i.e. if these columns are visible or not
1.07
– added keyboard shortcut for "Create Synced Track"
1.06
– Fixed a bug where Autosync would not work until a new song was created. i.e. appeared broken at the very first install of the tool.
– added keyboard shortcut for create synced track
1.05
–small bug fix for tool crash on some new songs
1.04
–Auto Sync mode added
–Create new synced track in instrument list menu
–new Alternative Undo shortcut for pattern editor