New Alpha, may need some bug squishing so don't depend on import/export just yet for saves -See using XRNS songs as extra/ master backup. Import/export testing will be helpful though.
---
Tagged Plugin Search (fx only - native and plugins)
Shortcut: Tagged Plugin Search
Download:
ledger.scripts.TaggedPluginSearch_V0.58.xrnx
v0.58
If sampler fx chain is shown, plugs will be loaded there instead of main track.
Secondary windows now close when primary window is shut by user.
---
Main Window has three pages with 12 tags per page. The first page is reserved for the renoise native devices that have been categorised as shown. User 1 and User 2 are for your own tags and plugs.
Non-Obvious stuff:
[R] is a random button, and just chooses a random plug suggestion from the selected tag.

To access Edit Names and Edit Tags Buttons you need to be on User 1 or User 2 page
////////////////////////////////////////////////////////
The Manage Tags page (below) has:
add/ remove plugs to tags - The basic buttons that add 1 plug or remove 1 plug are the leftmost.
Import/ export your tag template (this needs testing for reliability and later version 'may' not add early alpha saves). However in order that you can future-proof your saved tags you can use the main save buttons in concert with a couple of XRNS songs:
Basically load your plugs for one page in an empty XRNS made up to 12 tracks. Add your sorted plugs to each track (track = tag). Name the tracks the same as you want to call the tags and save this XRNS. The tool can then read the XRNS with [+] Tracks 1-12 button and your work sorting the plugs is preserved in the XRNS. (one song required for each page)
Also when this page is open, use its USER 1 and USER 2 buttons to navigate pages (not ones on main page)
Info section:
Unadded Plugs - lists all available plugs that are yet to be added to the tool.
Missing - lists any plugs that the tool has in tags that are not available in renoise. i.e. they have been un-installed.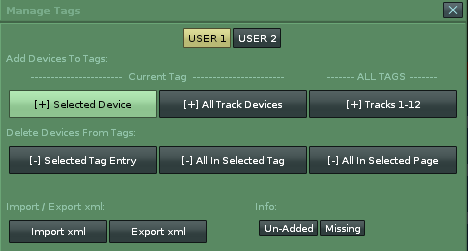 /////////////////////////////////////////////
Edit Tag Names Simply name/ re-name your tags for pages 1 and 2 here: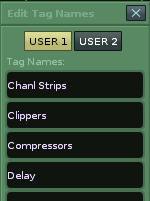 ---
---
---
---
Related Tools:
Related renoise tip:
My Other Scripts:
---
Click Here For Changelog:

v0.57
-Changed the layout of the Edit Names window to mirror the tags layout
-fixed minor bug with the Doubles readout
v0.56 Added a 'Doubled' button to the Info. section. It tells you which plugins are present in more than one tag, along with the names of those tags.
-v0.55 Made R (Random) button 'smarter'. It will now cycle through suggesting all plugs once per cycle in random order. i.e. if there are 10 plugs in a tag and you press 'R' 10 times you will get 10 unique suggestions, then the cycle begins again.
-v0.52 fixes some issues with the info windows
-v0.51 fixes some issues with the info windows