Download On Tools Page:
http://renoise.com/t…/vsti-from-menu
note: requires a new song to be loaded/ started after initial install to create the menus.
What it does:
Load Vsti`s from right-click menus of the instrument box and fx in mixer "right-click menu" and DSP lane "right-click menu"
Gives custom search boxes for instrument plugins and effects
Gives two shortcuts to navigate instrument plugin presets.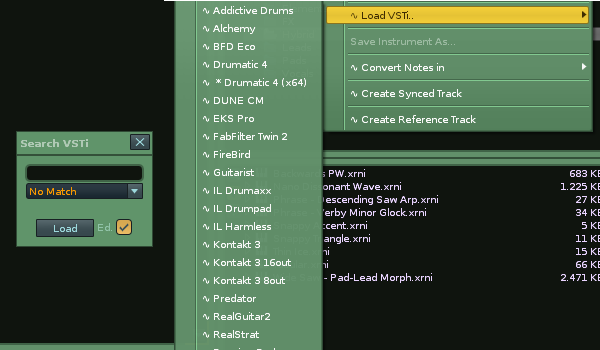 ---
Shortcuts:
NOTE: `VFM` is added to the beginning of all shortcuts for this tool, in order to make them easy to search for in the renoise shortcuts list
`VFM` Previous VSTi Preset
`VFM` Next VSTi Preset
Select the next and previous plugin presets via these shortcuts
`VFM` Search and Load FX
`VFM` Search and Load VSTi
Opens a custom search box to load plugin instruments or fx. This is the fastest way to load plugins.
---
-The New Slot button (added v1.3) can be pressed to take you to the first empty slot in the instrument box ready for a new instrument to be loaded. If no empty slots are present a new slot will be created.
-If the Ed. checkbox is enabled it means the plugin GUI will be opened automatically on loading (either via Load button or pressing return)
Related Tools:
---
Other Scripts:
////////////////////////////////////////////////////////////////////////
changelog

minor update:

-Now the 'New Slot' button in the search gui, appears red if there is already an instrument that will be loaded over in instrument list.

3.0 Version:
5910 ledger.scripts.VstiFromMenu_V1.5.xrnx

2.7 Beta Version:
1796 2_7VstFromMenu0_61.xrnx

2.6 Beta Version
1639 VstiFromMenu0_61.xrnx

Shortcuts:

–v1.5

–Lock Keyboard Focus state should now not be changed by the tool

–v1.4

–Search improved so matches are found alphabetically and so if you type imf as the first letter, plugins beginning with f will be the first to appear. Before it could occur that a plugin containing a different starting letter but had f appearing later in its name, would appear first.

–Jureks / modification added to categorisation definitions.

---

version 1.3

-added new button to the Search VSTi GUI

Before loading a plugin instrument, press it and you will be taken to the first empty instrument slot in the instrument list. If there are no free slots available, a new one will be created

5803 Load VSTi 1.3.PNG

~v1.0
-Added shortcuts for browsing plugin presets
-Added shortcuts for custom searchboxes
v 0.7-- updated to renoise 2.8 + fixed minor naming issues
v 0.61–Fixed: error when there are no VSTs to find
v.0.6–fixed a potential AU prob
v0.58Added: Support for fx , including plugins and Native
– Accessable in Mixer and Track DSP menus
– Same AutoOpen Gui option available at the bottom of the VST fx menu
v0.57Fixed by conner_bw (thanks): Mac AU issue
v0.56Fixed: Tried a fix on the mac AU issue again
v0.55Added: support for up to a billion VSTs and more for Jonas
fixed: mac AU menu mess (hopefully)
v0.54 Added: support for DSSI and AU (linux and mac)
Added: Preference as last menu entry: "AUTO OPEN GUI" which automatically opens the GUI when you load a new plugin
Changed: up to max of 1000 VSTs (previously 100)
Tools page small image backup:
---