2.8 release, testing appreciated:
http://tools.renoise…clear-junk-data
–version 1.31
–updated for 2.8
–New range of selection in sequencer added
2.7 version on tools page:
NEW BETA HERE:
[quote="Ledger"]
Ok, got a bit of time to tinker with the scripting again.
Just a small beta update adding a new range selector to the GUI. i.e. you can now specify a range of patterns to apply clearing to.
Will go on tools page shortly.
Version 1.0 now up with keybinding/menu entry now acting as a toggle and added keyhandler:
---
"Clear Junk Data" As ever an alpha so test with care (if without care, there is always undo
)
This tool will clear either:
Note-offs which are preceeded by another note-off i.e. they are redundant
or "meta data" that is no longer attached to a note i.e. vol, pan delay.
Due to the fact that sometimes it is wanted to have the "unattached" meta data, these two processes have been separated in th GUI for the user to chose.
Also please note that applying these processes to "Track in Song" or "Whole Song" may require a long wait with the usual terminte script dialogs pestering you.
Feedback as ever appreciated!
[b]Keybinding: "Clear Junk Data"
Pattern menu: [/b]"Clear Junk Data"
---
Ver 0.6
Added a new range of "selection in pattern"
[b]
Ver 0.51:
[/b]added: progress fraction through patterns, in the renoise status bar
:when processing whole track or whole song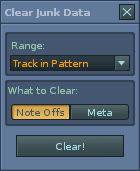 Before:
After both processes have been applied: